The 2007 sea festival, marking the 100th anniversary of tourism in the coastal town of Cua Lo in the province of Nghe An, began yesterday with a fish worshipping ceremony at the Van Loc – Nguyen Su Hoi temple.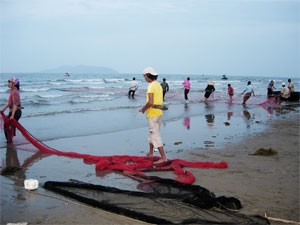 Cua Lo beach.  (Photo:T.H)
The festival highlights the province's history, development and achievements and allows local and foreign investors to explore Cua Lo's beaches and potential for tourism and business development.
In addition to beach volleyball and tennis competitions, traditional boat racing and other entertainment activities, travel firms there are also offering tours from Cua Lo beach to historic sites including the Kim Lien commune (President Ho Chi Minh's homeland), Pu Mat national Park and Laos.
A ceremony to begin construction of a world-class 18 hole - golf course in Cua Lo also took place the same day. The project, to be finished by 2009, also includes a five-star hotel and nearly 300 villas slated to go on sale by 2012.

Funding, estimated at VND1, 500 billion (US$ 93.5 million), is being provided by Tan Thanh Do Citiford, Ltd., the Phu Tho Infrastructure Construction & Investment Co. and Binh Minh Co.Ltd.