Ho Chi Minh City has welcomed more than 260,000 international visitors in August, a year-on-year increase of 10 percent, according to the Department of Culture, Sports and Tourism.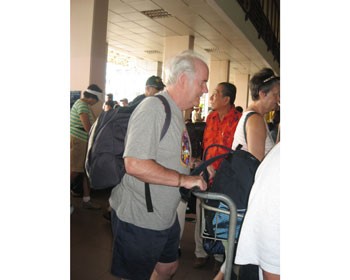 Foreign visitors arrive in Tan Son Nhat Airport, in Ho Chi Minh City. (Photo:VK)
The number of tourists arriving into the city by air is around 210,000, an increase of 10 percent compared to the same period last year.
Additionally, the total number of international visitors to the city in the first eight months of the year is 2.12 million, up 10 percent against last year. These figures have already touched 60 percent of the target figure for this year's tourism plan.
Although this time of the year is off season, the occupancy rate in hotels is approximately 70-80 per cent. The city tourism sector expects to welcome about 3.5 million tourists in 2011.