Viva Macau, Macau's international low-fare airline, on Monday started a promotion program for travelers flying from Ho Chi Minh City to Macau for US$20 one way.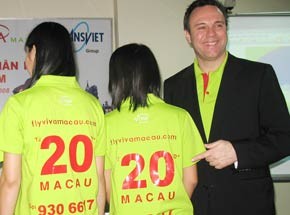 Con Korfiatis introduces the $20 fare printed on the backs of promoters Monday (Photo: Tuong Thuy)
Viva Macau CEO Con Korfiatis announced this at a press briefing in HCMC, saying the low fare is available in one week from today to June 23. A total of 1,000 seats are available for sale, for the travel period by 31 July.
He said, "The airfares we are offering are even lower than an average airfare for a domestic flight in Viet Nam, such as between Ho Chi Minh City and Ha Noi."
The airline also announced that Vietnamese company Transviet Travel is its newly appointed preferred sales agent for Viet Nam.
The US$20 airfare can be purchased through Viva Macau's website at www.flyvivamacau.com or the Transviet Travel network across the country.
Korfiatis said Macau is emerging as a booming destination in Asia with fantastic entertainment, shopping, east-meets-west culture and heritage. Last year Macau welcomed 27 million foreign visitors, even higher than the combined number of tourists to Singapore and Thailand, said Korfiatis.

Viva Macau started HCMC-Macau services in December 2007 and currently flies four times a week between HCMC and Macau every Monday, Wednesday, Friday and Sunday, using Boeing 767-200 aircraft. Korfiatis told reporters that his airline plans to increase to five flights per week by the end of this year, and then six flights or even daily service later on.
In February this year, Viva Macau and Macau.com started teaming up with Transviet and other Vietnamese tour operators to create a program to boost the number of Vietnamese tourists Macau. The number of Vietnamese tourists flying the airline to Las Vegas of Asia has increased with a double-digit growth so far this year, said Korfiatis.