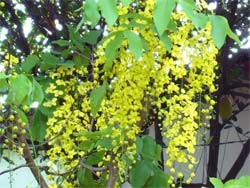 Bunches of Golden Scorpion flowers (Photo:VH)
Golden Scorpion ecological tourist area one among such places, and at this time of year, Golden Scorpion flowers are blooming here with their typical bright color.
One day with only 24 hours is a short period; however, it is precious moment for you to relax yourself.
Golden Scorpion (Bo Cap Vang) ecological tourist area, about 30km from Ho Chi Minh City, is a favored option for those who love aquatic activities. Especially, they will have a chance to see Golden Scorpion flowers, the typical plant that makes the name of this tourist center. These flowers also have other names: Water Scorpion, Easter, etc.
However, local people often call it Golden Scorpion for its bright yellow petals, and only this kind of flower can grow on thes river that flows through the ecological tourist area .
Taking the area access for a while, you will see the Golden Scorpion tourist center stretching out before your eyes with blue water, quietness and fresh winds from the river.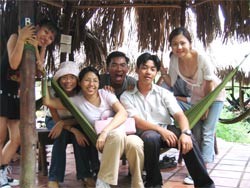 A group of picnickers in a thatched-roof house (Photo:VH)
Visitors, who come here, all want to escape from tight shoes to step with bare feet on the soft soil. It is said to be the easiest way to go around and play with fresh water in the nearby river.

Here and there, many small thatched-roof houses are seen hidden amongst trees with hammocks hung everywhere. These all give this place an idyllic look and peaceful atmosphere.
Leaving luggage in the thatched houses, tourists can go relaxing in the cool fresh river as long as they want. If they can't swim, then a nice life-jacket can help clear their problem, making them really at ease to enjoy the feelings of floating and playing in the water.
What's more, a wide variety of outdoors games hosted in the yard next to the thatched houses can also offer a rich source of joy! It is so exciting to see groups of youngsters playing folk games, laughing and shouting to bystanders in the tree shadow. Of course, it will be even much more exciting if you experience the games yourselves. 
"This is the first time I have been here. So wonderful! I love the space here. I will certainly return," said a girl.
Floating and Relaxing (Photo: VH)
Nearby the yard is the cool river, which attracts comers right at first sight. With a life-jacket, we can safely jump into the water from the springboard.
Tens of boys are queuing in the wooden bridge, waiting for his turn to plunge into the water. 
One girl has jumped down, "This is the most enjoyable feeling. So beautiful! I love it!" said the girl swimming next to me.
The river became noisier with incessant laughters of tourists playing in the water. Several boats floating in the large river also add more liveliness.   
After hours playing with water, enjoying delicious food is the most wanted. Regionalized meals with fish as main courses are well prepared for all visitors. All kinds of traditional food at reasonable prices are carefully served here.
A guy in my group told me that aquatic activities make him so much hungrier that the food seems to be even tastier. Having lunch in a thatched house and cooling oneself with breezes from the windy river is the most pleasant feeling of a day's picnic.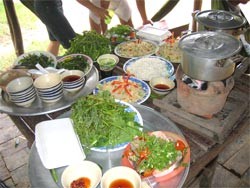 Traditional foods are ready for all visitors. (Photo:VH)
A large garden in the area is the next destination for tourists in the afternoon. dozens of tropical fruits are bred in this garden, and ready for sale to visitors. Especially, mangoes and jackfruits here are really delicious.  
 
It seems that time has wings. We wished that the day could be longer so that we could take part in other activities in Golden Scorpion. Next time, we must go earlier to have the whole day to relax and live with Nature.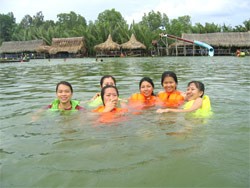 Frolicking in the river (Photo:VH)
Reportedly, about VND 140 million has been invested in Golden Scorpion ecological tourist area to renew tents and camping equipment. Touring this place, tourists can also have a chance to taste traditional dishes from various regions of Viet Nam.
Golden Scorpion ecological tourist area is situated in Nhon Trach district, Dong Nai province, attracting averagely over 2,500 tourists a day with the record high peak of 5,300 a day.