"It was a great pleasure to come on deck this morning and see blue sky up to the horizon. The conditions are good to produce up to 550 kW/h of electricity. We can charger the batteries and even up the speed."
It is part of the logbook of PlanetSolar, the world's largest solar powered boat, dated August 28, 2011.
The crew wrote it before the boat arrived in Nha Trang on Vietnam's central coast late Monday on the latest leg of her epic round the world voyage. With just the sun's energy, she is aiming to be the first boat powered just by solar energy to circumnavigate the world.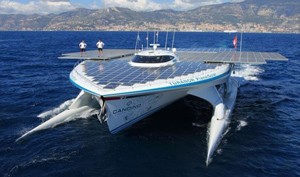 PlanetSolar underway (Photo courtesy of PlanetSolar.org)
PlanetSolar is a catamaran that runs solely on the energy found in light. The yacht arrived in Nha Trang from Hong Kong after embarking on a world tour from Monaco last September.
While she was approaching Nha Trang City, the ship's logbook writes, "It is almost unbelievable that under the amazing sunshine we can recognize the Vietnamese coast. Under cloudbank you can see it with the naked eye. The men are coming out quickly from their cabins and start betting on the arrival time in Nha Trang.
"Again it was a dark magical night with a few bright lightening rods. In front of us, you can clearly hear the gasps from the blowholes of the dolphins. A mother is showing her baby how to swim as close as possible to the bow. It is just brilliant how these animals are moving in the water… Tobias, Christian, Jens and Erwann."
PlanetSolar is scheduled to stay in Nha Trang until Thursday. The crew is set to welcome on board on the last day visitors who come to see the world's biggest solar boat. She can accommodate up to 40 people during the promotional trips planned at each port of call, according to the PlanetSolar team.
The next stopovers will be Singapore, Mumbai and Abu Dhabi before returning to Monaco.
The 31 by 15-meter white catamaran, is equipped with more than 500 square meters of solar paneling and can reach a top speed of around 15 knots, equivalent to 25 kilometers per hour. The 60-ton Swiss-flagged vessel was built in Germany in 14 months and cost US$26 million.
The PlanetSolar team says with this solar boat project has two objectives. The first is to show that current technologies aimed at improving energy efficiency are reliable and effective, and secondly to advance scientific research in the field of renewable energy.
The the biggest solar yacht ever built has impressive dimensions but is both silent and clean.