With more and more foreigners coming to live and work in Ho Chi Minh City, all kinds of accommodations are being built to provide them a place to live.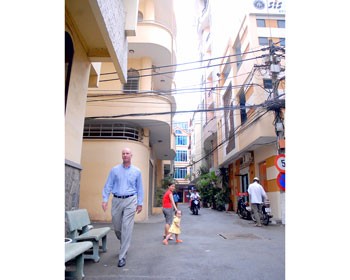 A backpacker area on Thai Van Lung Street in District 1, HCMC.
Of the 85,000 foreigners in Viet Nam, 60,000 are in the southern metro and many face problems finding a decent place to live.
Hotel rooms, serviced apartments, and rooms in private houses are all being added.
Classy hotels and apartments come for anything up to US$1,000 for a night and $2,000 – 8,000 for a month. On Thai Van Lung and Le Thanh Ton Streets in District 1 are places that offer a 10-15 square meter room for VND6-6.5 million a month, including laundry, water, and power.
Most private houses here are four or five stories tall and have rooms equipped with facilities like Internet, air-conditioner, and water heater.
Many Japanese and Korean students live in Da Kao Ward, District 1. It is not far from the HCMC University of Social Sciences and Humanities where they study. Rooms cost $180-250 a month.
It's a satisfactory arrangement for both sides -- most of their hosts are pleased with their tenants who have been in Viet Nam for a long time and integrated into Vietnamese culture.
"Coming back after traveling somewhere or visiting home, they bring us gifts" said a happy host. "We also offer them a low price and help them practice Vietnamese and learn about the country, people, and culture," he added.