Accor, the largest hotel group in Asia-Pacific, reinforced its status in the hospitality industry in Vietnam by announcing three new hotels to add to its existing chain this year and a further 16 more by 2015.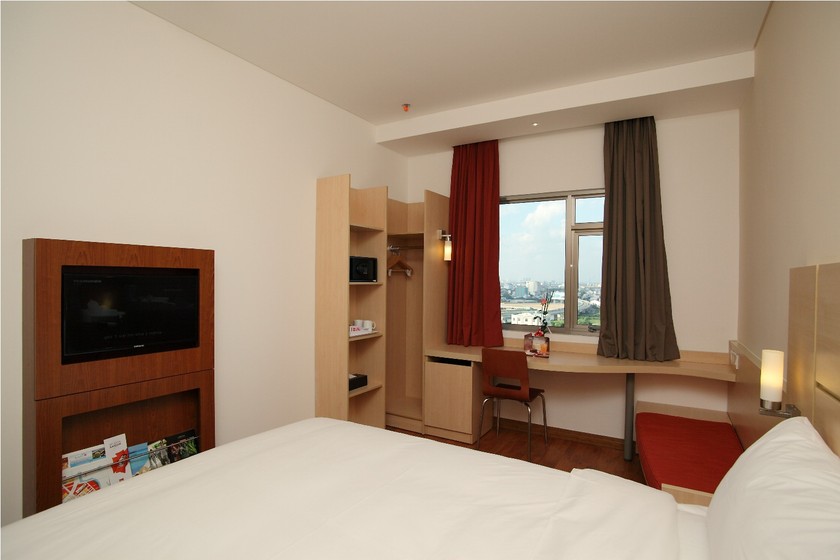 A room in Ibis Saigon South (Photo: Courtesy of Accor)
The announcement comes as Accor opens its international chain of   budget hotels in Vietnam, with 'Ibis Saigon South'. This addition marks a major milestone for Accor in Vietnam as it now offers a comprehensive range of hotel services from the luxury Sofitel, upscale MGallery, midscale Novotel and Mercure, and budget Ibis.
"Ibis is the world's leading budget hotel brand and is well-known for its excellent service at competitive rates. With Ibis Saigon South, we now have 13 hotels in the network and a comprehensive hotel selection for international and domestic guests to choose from," said Patrick Basset, vice president of Accor in Vietnam, Philippines, South Korea and Japan.
Ibis Saigon South has 160 comfortable, well-designed, and fully equipped guest rooms which provide a wide range of amenities, including flat screen television and free Wi-Fi Internet access. The hotel also offers 24-hour service, quality food and beverages at the OPEN Restaurant and a funky bar on the ground floor for guests who want to relax and enjoy a selection of drinks.
Accor has signed three additional hotels in Da Nang to further expand its network in Vietnam including Pullman Da Nang Beach Resort, a re-branded 186-room hotel located on Da Nang Beach with four food and beverage outlets, a swimming pool and a variety of meeting/conference rooms; Ba Na Hills - a newly built 90-room upscale hotel located in a French-inspired village amongst the scenic Truong Son Mountains; and Mercure Da Nang French Village Ba Na Hills, a 372-room hotel also with old-world, French touches in its décor and architecture.