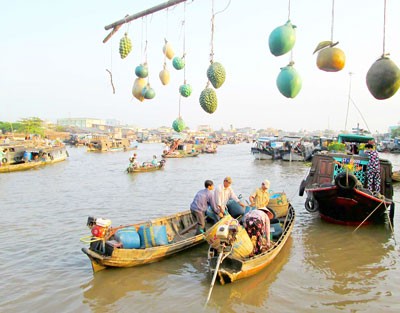 Floating markets in Mekong delta attract foreign tourists (Photo: SGGP)
In the current context, if the government wants to boost tourism in the Mekong Delta, localities must coordinate to increase quality services and along with that more flights must be added to satisfy the increasing demand of holidaymakers.

Recently, the Mekong Delta Region has upgraded the international airport at Can Tho, Phu Quoc, and completed the CanTho Bridge, as well as tourist attractions and parks such as Ho Nam tourist area in Bac Lieu Province, Nine Dragon in Vinh Long Province and restaurants and hotels in Can Tho City. Besides this, the region is encouraging various enterprises to invest in the tourism industry.
The Mekong Delta Tourism Association has signed a cooperation agreement with Tourism Associations of Ho Chi Minh City, Da Nang and Hanoi to organize a series of seminars to discuss ways to promote tourism in the region.
Thanks to their concerted efforts, visitors to the region have increased year-on-year.

However, due to the present economic crisis, visitors to the region in the first four months of the year touched only 2.4 million, a decrease of 5.6 percent compared to the same period last year.

Benoit Perdu, director of TransMekong, said at a seminar that the government should open more flights on the Da Nang-Can Tho route as 30 percent of foreign tourists or around 200,000 people a year want to fly to that area. If more flights are added, then people will extend their stay in the Mekong Delta for longer periods and this region will then become one of the main tourist destinations of the country, he said.

In 2012, the region attracted more than 19.4 million visitors and earned revenue of upto VND4.3 trillion ($206,340,000) from tourism-related activities, an increase of 23.2 percent from the year before.