After 701 Vietnamese travelers were left stranded in Thailand, the Ministry of Culture, Sports and Tourism on June 18 conducted an enquiry on Travel Life Company, who had been responsible for the tour.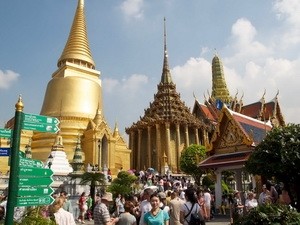 701 Vietnamese travelers were left stranded in Thailand (Photo: Vietnamplus)
However, Nguyen Thi Kim Khanh, Director of Travel Life, did not respond nor was she available on the phone. The police department has now been asked to look into the case.
Nguyen Thi Thuy Minh, deputy inspector in the Ministry, said that 344 of the stranded tourists would be arriving shortly at Tan Son Nhat International Airport.
The 701 travelers were offered a tour of Thailand by Travel Life Company, located in Tan Binh District in Ho Chi Minh City. They arrived in Bangkok to attend a seminar hosted by Herbalife Vietnam.
However, they were left unattended as apparently the Thai Tourist Company contracted by its Vietnamese partner, Travel Life, had not received the necessary payment.
When Saigon Giai Phong contacted Herbalife via telephone, they denied organizing a sightseeing tour, saying that they only provided training to 3,000 Vietnamese distributors in Thailand and the mentioned 701 distributors had contracted for the tour on their own.
Tran Thi Thuy, an accountant at Travel Life Company, admitted that her company had received a sum of VND4.5 billion (US$213,885) for a six-day five-night sightseeing tour of Thailand from June 12-18.
Nguyen Duc Chi, head of travel department, said staff of Travel Life presented a contract with Herbalife. Chi also said that Travel Life Company is facing risk of insolvency as it offers cheap tours but buys expensive tickets.
According to the Vietnam National Administration of Tourism on June 16, as per business license No. 0311181292 issued on September 23, 2011 to Travel Life, its registered office is on 34 Nhat Chi Mai Street, Ward 13, Tan Binh District. However, it operates from 26/30 Tan Son Nhi Street in Tan Phu District.
The tourist agency has no license to organize international tours, yet it offers such tours via website www.travelifevn.com