Air Astana, Kazakhstan's national airline, has signed a lucrative commercial tie-up with Vietnam to open direct flights to Ho Chi Minh City by December 2012.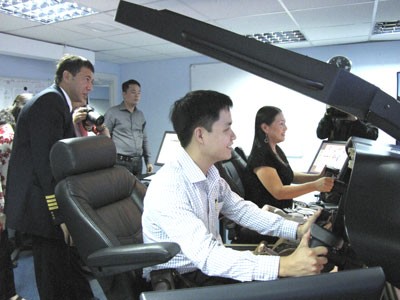 Vietnamese press delegation visits Air Astana's airline pilot training center.
According to Peter Foster, President of Air Astana, the carrier sees great economic potential in the Asia Pacific region.

International Air Transport Association IATA has predicted that Vietnam will become the third fastest growing cargo and passenger transport market in the world by 2014, after China and Brazil. In addition, Vietnam has already become a favorite tourist destination for international visitors.

Air Astana will operate two flights per week from Kazakhstan's Almaty airport to Ho Chi Minh City, with a transit stop-over at Bangkok in Thailand.

The carrier flies to some 60 destinations throughout the world and was awarded the prestigious 4-Star rating by Skytrax World Airline.

Vietnam has now become a popular destination for international visitors, particularly for Russian tourists and travelers to neighboring countries. Previously, most Russian visitors travelled to Vietnam to avoid the freezing winter in their homeland, but now many Russians visit the coastal tourist sites of Phan Thiet, Nha Trang and Da Nang even during the summer months. This was one of the reasons that prompted Air Astana to open direct flights to Vietnam.

Air Astana President said that travelers are attracted to Vietnam's wild and beautiful beaches, delicious food and past tragic history of struggle for freedom, independence and national construction.