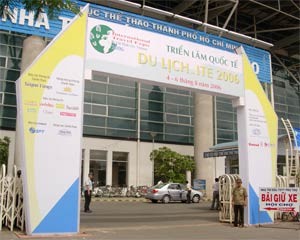 The International Travel Expo which was organized in HCMC on Agust 4 is a good opportunity for all local and foreign tour operators and travel agents to introduce their diversified travel products to visitors. (Photo:KK)
It's cheap, it's safe and there's much to see and do, so it's no wonder that more and more Americans are coming to Viet Nam these days.
"What with earthquakes and tsunamis in other parts of the region, Americans want to travel to Vietnam", says Mr. Losebastien, Secretary General of the ASEAN Tourism Association.

He also reckons that what makes Viet Nam attractive is the way it "retains the features of an Asian agricultural country on the path of renovation and integration." The people are friendly, and they don't dwell on the bitter past but look to the future.
Professor John Quelch, vice-rector of the Harvard Business School, gets his strongest impression of Viet Nam from the festivities at Lunar New Year time. "I remember, there were these motorcyclists carrying kumquat and peach trees; it looked like a forest was coming down the street! What a wonderful time for everyone!"
Most visitors are very interested in services that hotels and travel agents offer(Photo:KK)
The airlines are doing their bit to bring more foreigners here. For instance, United Airlines began direct flights between San Francisco and Ho Chi Minh City in June 2005, and more French and Korean airlines are flying to Viet Nam these days.

And hotels and travel agents, both Vietnamese and American, are offering more and classier tours to Viet Nam.

According to the Asia Pacific Tourism Association, a full million Americans visited Vietnam last year, and it's looking like 50 percent more will see the country in 2006, spending a thousand bucks apiece on average after they arrive. It's all good news for the travel industry.

Unfortunately, the marketing of Viet Nam as a place to visit is not good, not by a long shot. Most Americans who come here know little about the land when they step off the plane, so local travel agents, airlines and hotels need to network much more and formulate strategies for long-term marketing.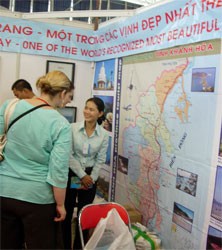 Foreign visitors is learning about the travel information in a stall of the Tourism Department of Khanh Hoa Province. (Photo:KK)
"Viet Nam's tourism industry should make the most of such things as the nation's delicious and diverse food, the ao dai (traditional lady dress), and that it's a unique country full of motorbikes," Mr. Losebastien adds.

Viet Nam has gained a reputation as a safe and attractive land to visit and travel around, of that there is no question.

Many people reckon 2006 will turn out to be a particularly good year for Vietnam's tourism industry, and like to mention the fact that this country will host the APEC summit later this year.

The Viet Nam National Administration of Tourism (VNAT) has launched promotions and its 2006-2010 National Tourism Action Program, and the slogan "Viet Nam - the Hidden Charm" is catching on among tour operators, travel agents and visitors.