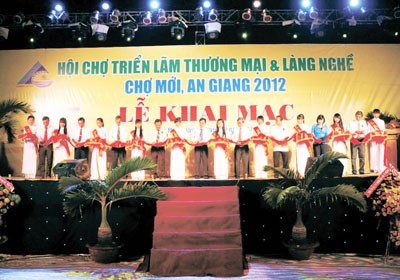 A fair displays handicraft products in An Giang Province (Photo: SGGP)
Lying on the west of the Mekong Delta, An Giang Province attracts more than five million domestic and international holidaymakers annually, making it the key tourist destination in the region.
To be able to attract more visitors, An Giang Province has developed several traditional handicraft villages and linked them with tourism. So far these villages have proved to be very effective.
An Giang Province has developed 34 traditional handicraft villages to date, many of which were founded a long, long time ago, with each traditional craft village having a cultural base with its own identity.
These are well-known in the country like blacksmiths Phu My village in Phu Tam District; Tan Chau town's famous silk of Lanh My A brand– a kind of cocoon silk fabricated by original formulas, making it a unique product that many women dream of in the 20th century; 100-year-old Chau Giang Brocade village, which makes exquisite brocade, a perfect combination between traditional and modern and also unique in producing Cham ethnic minority specialty with a number of patterns; and Cho Thu lumber village in Cho Moi District.
Several new traditional craft villages  to make arts and crafts products from available materials from the countryside like bamboo, thot not tree or palmyra tree for numerous sugars, drinks and food, water hyacinth, are all popular gifts bought by visitors.
Nguyen Van Len, director of An Giang Department of Culture, Sports and Tourism, said the province is launching a variety of tours such as tours for Buddhist followers, ecological tours, and agricultural tours.
Authorities also held seminars 'Sustainable growth of arts and craft production in economic downturn' to help enterprises and businessmen to penetrate markets locally and internationally. In addition, the People's Committee organized fairs to display arts and craft products.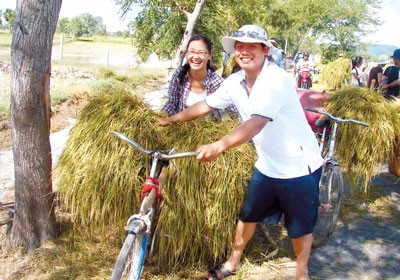 Holidaymakers are excited to join in the village activities (Photo: SGGP)
The province has plans to preserve and develop traditional crafts villages. In the first phase, the province will spend VND60 billion (US$2.9 million) on 43 projects and in the second phase, VND4.3 billion will be invested in seven projects.
An Giang Province therefore has offered jobs to more than 33,000 residents with average salary of VND1.3 million a month, said Huynh The Nang, deputy chairman of the People's Committee.
In some special tours designed for tourists, visitors will have a chance to see artists from traditional craft villages making a shirt for visitors, weaving bamboo products or participating in baking cakes.