All Nippon Airways (ANA), Japan's second-largest carrier, has said it will increase the number of flights between Narita and Ho Chi Minh City in Vietnam to seven per week from the current five, effective March 28.
ANA said in a statement issued Jan. 27 in Tokyo that it will promote its international flights as the "pillar" of its growth in fiscal 2010 by capitalizing on the ''biggest business opportunity'' to be created by the expansion of two core airports in the Tokyo metropolitan area.
Announcing its business plan for the year that begins April 1, ANA said it will start seven weekly roundtrip flights between Narita airport and Munich, Germany, on July 1 by taking advantage of an increase in landing and departure slots at the airport east of Tokyo from March 28.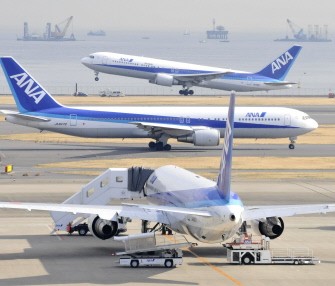 All Nippon Airways jetliner takes off from Tokyo's Haneda airport on January 29, 2010. AFP PHOTO
Also starting the same day, the carrier will fly more frequently between Narita and the Chinese cities of Shenyang and Hangzhou.
The business plan also says ANA is considering launching late-night and early-morning flights between Haneda and cities in the United States and Southeast Asian countries.
The airline said Friday it had posted a 391 million dollar net loss for the nine months to December, blaming the global downturn.
Looking ahead, ANA said "the environment remains challenging, and the airline sector continues to face difficult times."
The Japanese carrier said it booked a net loss of 35.19 billion yen (391 million dollars) for the nine month period, compared to a net profit of 9.42 billion yen during the same time the previous year.
"The business downturn which has persisted since the second half of the last fiscal year has been continuing, and passenger demand is taking longer than expected to recover," ANA said in another statement Friday.
On a more positive note it said "for international flights there were signs of a recovery in business demand as well as leisure demand, and the sluggish demand for domestic flights seems to have hit bottom."
The business environment remained difficult due to high oil prices, volatile foreign exchange rates and deflationary pressures in Japan, it said.