Hoi An is an ancient town on the Central Coast of Viet Nam, 32 kilometers south of Da Nang City. Apart from its unique historical character, this place has introduced and become famous for some special dishes.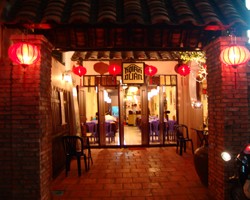 Hoi An Restaurant
In Sai Gon, there are only a small number of restaurants serving traditional food of Quang Nam Province. However, it is not easy to find one for every taste. "Hoi An Quan" (Hoi An Restaurant) located in Tan Binh District is among those.

Looking from outside, the restaurant is very much alike to an ancient house in Hoi An town. With green bamboos and decorative multi-colored and multi-shaped lanterns hanging along the way, on the trees and on the ceiling, Hoi An Quan looks so nice and antique, especially at night. The roof of the house is covered with double tiles; some beautiful pictures hanging on the wall make it more attractive.

The owner of this restaurant, Tran The Cuong, is always keen on Quang Nam food because he is "the son of Quang Nam, who has a dream to introduce his hometown's gastronomy to everyone from other parts of the country", as he said. With this desire he decided to open a small restaurant of his own. "At least I can be proud of the tasty dishes praised by many guests coming to my restaurants".

Tasty dishes
Once there, you should not miss a very famous "Cao lau" - a soup made with noodles, pork and vegetables that can be found only in the town of Hoi An.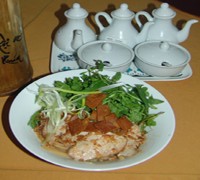 Cao Lau
The origin of Hoi An vermicelli has been discussed by many people. It is said to be originated from Japan, and to resemble the noodle of Ice area. Some say that it is from China, but overseas Chinese don't recognize that it is their traditional dish. However, wherever it comes from, it is also the unique cuisine of Hoi An, which has been known by more and more local and foreign tourists.

The threads of vermicelli are rolled from rice flour soaked in ash water, steamed three times so it is hard and naturally yellow enough. The filling is mainly steamed pork, pieces of fried noodles, vegetables, Soya sauce and pimento sauce. The process is simple but contains many undiscovered professional secrets.

The owner said that wood is taken from Cham Island about 10 kilometers offshore. Then it is soaked in the water taken from wells in Ba Le village so as to make the most delicious dish. And it is best served with Tra Que greens taken from Tra Que village in Hoi An.

For a long time, My Quang (Quang noodle) has long been known as the spirit of Quang Nam Cuisine. Like Pho, Bun or Hu tieu, Quang soft noodle soup is also made from rice; however, it has its own special flavor which is unlike any other dishes. The noodles are made from rice flour sliced into pieces. The filling of noodles is made from different material such as shrimp, chicken, pork and beef. There is also noodle for vegetarians.

Quang soft noodle soup tastes the best when being served with a variety of herbs, such as mint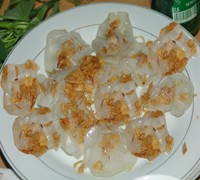 white Rose
leaves, bean sprouts, cabbage, onion, coriander, banana flower and so on. A bowl of Quang soft noodle soup is normally dressed with pieces of banh trang (also called baked-rice waffle), roasted groundnuts, shrimp or pork, which looks very tasty.

The restaurant also offers you other dishes such as "Com Ga" (steamed rice served with fried chicken), "Hen Tron" (small mussels mixed with rice waffles), "Banh Bao" (a kind of dumpling, usually called White Rose) and "Ca Nuc" (a kind of fish).

If you happen to be there, enjoy the food to find out whether "Hoi An Quan" is a "Miniature Hoi An in Sai Gon" or not.

Hoi An Quan
Address: 308/26 Hoang Van Thu Street – Tan Binh District – Ho Chi Minh City
Tel: 08 9130510