The well - known British Broadcasting Corporation (BBC) is planning to make a documentary about Son Doong, the world's largest cave, in Vietnam's central province of Quang Binh. It is announced on June 16th.
A film crew will come to Vietnam in early July along with experts from the British Cave Research Association.
The film would focus on some extremely rare animals and plants found in the cave, the BBC has said.
Another 3D documentary film on Son Doong was shot last month by Japanese news agency Kyodo.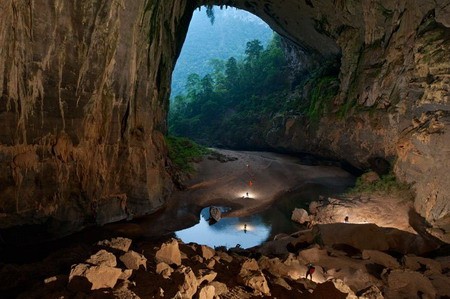 Son Doong, the world's largest cave
The cave, feared by locals for the whistling sound its underground river makes, was first discovered by a local man named Ho Khanh in 1991. In 2009, a group of British scientists from the British Cave Research Association, led by Howard Limbert, conducted a survey in Phong Nha-Ke Bang. The film will be televised world wide ( 160 countries and territories ) from June 25 till the end of 2011.
According to Limbert, the cave is five times larger than the nearby Phong Nha cave, previously considered to be the largest cave in Vietnam. The largest chamber in Son Doong is over 5km in length, 200m in height and 150m in width.
Phong Nha-Ke Bang National Park was first recognized as a world natural heritage site by UNESCO in 2003 for its geological value. In July this year, the United Nations cultural organ plans to further honor the park a second time round for its biodiversity.
It measures at least 80 meters by 80 meters in most places and is at least 4.5 kilometers long. For a couple of kilometers it is more than 140 meters wide and 140 meters high.