APEC-Quang Nam Travel Expo 2006 will take place at Hoi An Festive Square, in Hoi An Town on October 16-18, just at the same time of the opening day of the APEC Tourism Ministers Meeting. The expo aims to support main activities of APEC summit, introducing Viet Nam's destinations and tourism services to APEC's 21 Member Economies.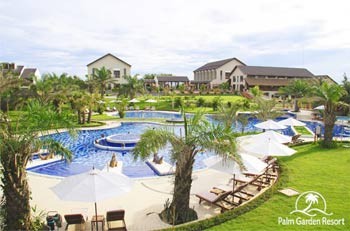 Palm Garden Resort in Quang Nam Province has been chosen to host the meetings of tourism ministers
The expo includes special food and drink festival of localities and Vietnamese traditional art performances of Quan Ho Bac Ninh folk songs, Ca Tru (ceremonial/festival song) art, Highland gong, Cheo (Vietnamese operetta), Don Ca Tai Tu (southern chamber music) and so on...It expects to draw more than 40,000 domestic and foreign visitors.
Besides, the expo displays Viet Nam's handicraft villages and their daily work. Meetings and seminars themed "Vietnamese tourism links to APEC's member economies" for local and foreign enterprises to meet will be organized.
The APEC-Quang Nam Travel Expo 2006 with the attendance of 64 cities and provinces' tourism departments nationwide is organized by the People's Committee of Quang Nam Province.