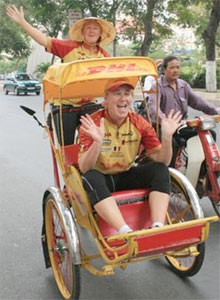 Nicole Dierchx (back) and Ingrid De Wilde on Ho Chi Minh City's streets (Photo:TTO)
Belgian freewheelers Nicole Dierchx and Ingrid De Wilde crossed into Viet Nam from Cambodia yesterday to notch up the twenty-fifth country of their motorless trip around the world.
The intrepid pair will spend the next three months traveling by bicycle and cyclo from Ho Chi Minh to the north before continuing on into China.
Since leaving home in 2004, they have been through Europe, the Middle East and Central Asia.

They plan on visiting 55 countries in all and completing the epic journey in 2009.