Due to bad weather conditions caused by Storm 'Jebi', Vietnam Airlines announced cancellation of 44 domestic and international flights, scheduled for August 3.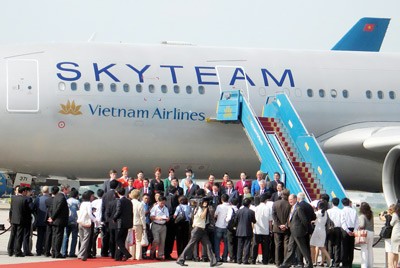 Vietnam Airline cancels 44 flights due to bad weather
The flights included those to Hai Phong and 30 others to Hanoi. In addition, the Airlines also cancelled two international flights to Luang Prabang in Laos and Siem Reap in Cambodia.
The carrier asked passengers affected by the cancellations to visit its website www.vietnamairlines.com or contact VNA agents for 0information related to refunds, ticket change or re-booking.
Passengers of the cancelled flights can call 04.38 320 320 (Hanoi), 08.38 320 320 (Ho Chi Minh City) and 0511.3811111 (Da Nang) for further assistance.
Due to the approaching storm conditions, budget carrier Jetstar Pacific Airlines also announced that flights BL 512 and BL 513 scheduled for August 3 between HCMC and Hai Phong City will land in Hanoi. Passengers on these flights will be transported gratis between Hanoi and Hai Phong, the firm said.
Vietnam Airlines said on August 3 that it cancelled an additional four flights between HCMC and the northern provinces of Thanh Hoa, Dien Bien and Hanoi.
In order to meet passenger demand, the airline will deploy bigger planes on August 3 and 4, with flight A321 being replaced by A 330 with 280 seats on Hanoi and HCMC routes on August 3.
On August 4, there will be increased number of flights from Hanoi to the Mekong Delta City of Can Tho, the northern province of Dien Bien, and to Ho Chi Minh City.