Tourism sector of the central coastal province of Binh Thuan is very potential, with the increasing number of tourist annually, but it still grow at slow pace due to a lack of close management.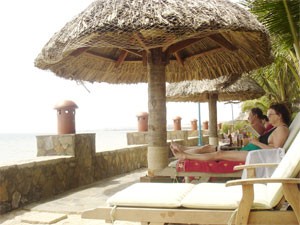 Foreign tourists enjoy fresh air on a beach at a resort in the central coastal province of Binh Thuan (Photo:Minh Tri)
The authorities from Binh Thuan Province have tried to improve infrastructures geared up for the local tourism for years, but that was still not enough to meet up the sharp growth of the sector.
Visitors still hesitate to travel to Binh Thuan Province as there is no airport and sea port in the province. The local authority earlier also struggled to curb the polluted ecosystem.
With a strict supervision from the local department of culture, sport and tourism, up to 72 percent of resort and sea hotel operators have wastewater treatment facilities, which meet the required standards.
Authorities are struggling to manage conflicts between tourism development and mineral exploitation and fishing.
Without separate sea port for fishing boats and regulation on fishing zones, fishing in Binh Thuan Province remain disordered and pollute the environment of the sea shore.
Some investment projects on tourism spots have been halted or even canceled due to the exploitation of titan resources, which is affecting natural environment badly.
"Tourism planning in Binh Thuan Province is not good enough and the planning management remains limited," Le Thi Thanh Lien, deputy director of the Binh Thuan Province Department of Culture, Sport and Tourism, told Dau Tu Tai Chinh Newspaper.
"The limitation come from the devolving on tourism investment project approval in 1990, which regulated that the provincial authorities was in charge of licensing projects with an area of below 2 hectares and the others went to the central authorities," Lien said.
"Thus most investors tended to apply for medium and small projects at that time as they wanted to avoid red taps. To curb the issue, the local authorities are now choosing investors with strong financial base and large investment projects," she said.
"Among them are a 999-hectare tourism complex in Dai Ngan Valley, 265-hectare tourism zone in Bach Duong Hill, 300-hectare sport and tourism complex Hoa Thang and 329-hectare Sun Resort Vina Ham Tan, with the total investment of up to tens of trillions of dong," Lien said.
On the other hand, fishermen are worried that tourism development will put an end to the local fishing sector.
To solve the problem, the Binh Thuan Province Department of Culture, Sport and Tourism has proposed to reserve some fishing villages, which will be considered as a cultural trait, with fishermen in the villages being funded to keep their career or work for tourism service providers.
Statistics from the Binh Thuan Province Statistic Department show 2.5 million tourists visited the province last year, of which 254,000 visitors are foreigners.
The revenue from the tourism sector amounted to more than VND2.5 trillion (US$125 million), making nearly 6 percent of the gross domestic product (GDP) of the province.