Hundreds of foreigners have stayed at the boatman's home and learned about rural life in southern Viet Nam. He is encouraged by the great number of letters and postcards he gets from house guests thanking him for his hospitality.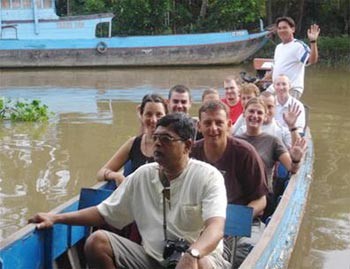 Hung (at the end of the boat) is carrying visitors to visit the Cai Rang floating market. (Photo: Tuoi Tre)
Nguyen Huu Nam Hung is his name and it's this tremendous response that encourages the 32-year-old boatman of Cai Rang District in Can Tho City to pursue a career in the travel trade.
Because of poverty, Hung had to leave school in the ninth grade. Like other rural men in southern Viet Nam, he married early and farmed the land.
After several years of poor crops, he became a boatman to supplement his family's income.
Hung usually gets up at five o'clock and cleans the boat carefully. Then, he rows to the jetty near Dau Sau Bridge to pick up tourists who want to visit the floating market at Cai Rang in Phong Dien District.
Realizing the need for some proficiency in English, he started going to a neighborhood teacher every night. "I want to communicate directly with the international visitors so that I can tell them about the Mekong Delta and the local food," he explained.
Conversing with his clients gives him plenty of English practice. "I really admire Hung's fondness for learning. He speaks English better than the students at a language school," said Nguyen Ngoc Huy, who works as a guide for the Can Tho Tourist Company.
Hung ventured into the travel business in March 2001 by inviting two Brits to stay the night at his house. This amateur tour guide showed them around his village and took them to the small market, the primary school, and the nearby village where the residents specialize in making sedge mats.
He often treats his foreign guests to a dinner of local food and a sticky wine made by his wife. "Your dinner is very delicious, and your wife's sticky wine did not give us a headache. If we come back to Viet Nam, we will buy some bottles for France," Olivier and Nadège of France wrote in a letter to Hung.
When they are out for a walk with Hung in his hamlet, his clients might ask to try some local specialty like coconut milk or fruit. Hung often pays with his own money and is pleased to do so. "It's not much when I pay, but we should let them to sample these specialties before buying" Hung said.
He hasn't made much money from the business, not yet anyway, but he has gained an enormous number of friends all over the world.
"Because of meeting you, I fell in love with Viet Nam. I will not forget your family's hospitality. If you have a chance to visit Japan, I will be your tour guide and show you and your family around my country," Hung proudly reads out from a letter written by Mayumi of Japan.