The Spirit of Adventure sailed into Ho Chi Minh City on Tuesday for the first visit to Viet Nam by a cruise liner from Britain's Saga Shipping Company.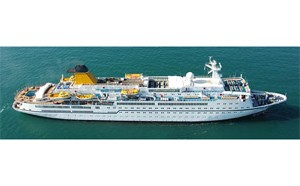 The Spirit of Adventure
During their three-day stay the ship's 400 passengers are being looked after by Saigontourist.

Since they arrived, the travel company has taken its charges to the History Museum, the War Remnants Museum, Notre Dame Cathedral, the main post office, Giac Lam Pagoda and the mandatory Ben Thanh Market, as well as on longer trips to the Cu Chi Tunnels and the city of My Tho down south in Tien Giang.


The Spirit of Adventure leaves for Singapore this evening. Since the start of 2006 Saigontourist has looked after more than 10,000 sea-faring travelers.