Budget Car Rental has launched a new transportation service for more comfortable trips for tourists without tour guides, but the drivers can help much in guiding.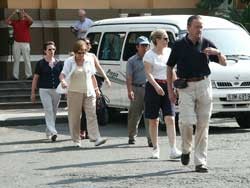 Foreign tourists in Ho Chi Minh City
The new service, which the company calls World-Class Drives, features 15 short trips originating out of Ho Chi Minh City and seven more that allow excursions further afield. It also permits customers to build their own itineraries, based on what they want to do, and when they want to do it.
"World-Class Drives bridges the gap between completely independent travel and full-on packaged tours where you're told where to eat, sleep and shop," said Dan Cohen, Budget Vietnam's general manager. "You see Ho Chi Minh City and the surrounding areas on your own terms, your own schedule," he added.
"Going to Cu Chi, for example, should be about more than just seeing the famed tunnels. It should be about visiting the surrounding areas, going to a non-tourist restaurant to dine, soaking up the essence of the local culture. That idea is at the core of this program."
The program includes the use of a driver. The company's chauffeurs also function as traveling concierges and speak English well.
Among the other half- or full-day trips the program offers are journeys to the Mekong Delta, the seaside resort city of Vung Tau and the Binh Chau Hot Springs. Longer trips include Ho Chi Minh City to Cat Tien National Park, Da Lat City, and some coastal destinations.
The company announced the new service on Nov. 18. Its vehicles include Toyota Innova, Ford Everest and Escape, and Mercedes-Benz sedans and vans. Cars are priced from US$99 to $249 per day.