Ca Mau Cape National Park in Ca Mau Province in the southernmost tip of Vietnam will be recognized as a Ramsar site on December 13, the fifth such site in Vietnam, announced the Department of Agriculture and Rural Development in Ca Mau Province.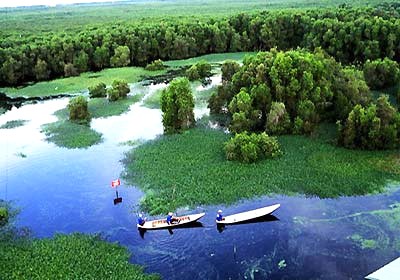 A corner of Ca Mau Cape National Park
The World Environment Organization will announce the official recognition of Ca Mau Cape National Park as a Ramsar Site on December 13.
Mui Ca Mau or Ca Mau Cape National Park in Ca Mau Province has an area of 41,860 hectares, which includes 15,262 hectares of land and 26,600 hectares of coastal area in low lying saline land.
This site is home to 93 species of birds, 26 species of mammals, 43 species of reptiles, 9 species of amphibians and 233 fish species. The park is also home to some very rare species such as the gray-foot pelican, rare otters and the black-back box turtle.
On May 26, 2009, UNESCO officially recognized some parts of Ca Mau Province as a Biosphere Reserve of the world, a large natural habitat of more than 371,000 hectares and the Mui Ca Mau National Park as one of three important areas of the Biosphere Reserve.
Currently, Vietnam has four Ramsar sites including two in the northern region and two in the south.
The Ramsar sites in the north are Xuan Thuy Natural Wetland Reserve in Nam Dinh Province and Ba Be Lake in the mountainous province of Bac Kan which were recognized in 1988 and 2011, respectively.
The Ramsar sites in the southern region are Bau Sau (Crocodile Lake) Wetlands and Seasonal Floodplains in Cat Tien National Park in Dong Nai Province and Tram Chim National Park in the southern province of Dong Thap, which were recognized in 2005 and 2012, respectively.
The 7,588 hectare Tram Chim National Park-- home to 130 species of plants, 100 species of vertebrate animals, 40 species of fish, and 147 types of water birds--was recognized by the Ramsar Convention as the 2000th Ramsar site as a Wetland of International Importance in the world.