One month after national taekwondo coach Le Minh Khuong tussled with Vietnam Airlines staff, the Civil Aviation Administration of Vietnam (CAAV) have decided to fine him for disrupting an Airlines flight.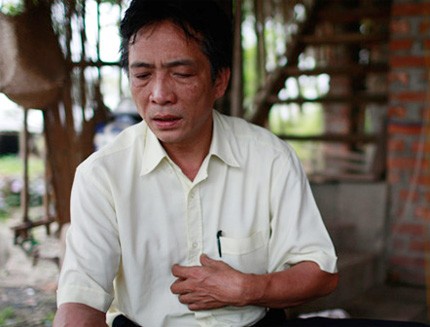 Taekwondo coach Le Minh Khuong disappointed with CAAV's conclusion
At a meeting between CAAV, Khuong and his lawyer on May 18, CAAV said Khuong's bad behavior had inconvenienced other passengers and delayed the national carrier.
CAAV said Khuong could not use losing his air ticket as an excuse to behave badly with airline staff members who had treated him in a proper manner. The cabin crew chief, Trinh Thi Hoa had reported Khuong's unruly behavior to the chief pilot, who reported the matter to Danang Airport security.
CAAV reproached the flight attendant for losing the passengers ticket and the ground staff at the airport for pointing a walkie-talkie at Khuong's face.
Earlier, after chief pilot Ivanov and chief of the cabin crew Trinh Thi Hoa denied requests by Khuong and his father to leave the plane, when the aircraft had to make an emergency landing in Da Nang City due to bad weather, Khuong began to shout and refused to return to his seat in the economy class section. He occupied another passenger's seat in business class on the VNA1169 fight from Hanoi to Ho Chi Minh City on April 18.
Flight attendants reported the matter to security officers who forcibly removed Khuong from the plane. Khuong said the security officers at Da Nang Airport had assaulted him, but the Danang Airport Security Company denied the accusation.
In a meeting with CAAV Inspectors yesterday morning, Khuong and his lawyer, Tran Thu Nam, disagreed with the CAAV decision.
Related article:
Passenger tussles with airline staff