Viet Nam should extend the visa-free period for visitors from five Western European countries, continue with this policy for more than a year, and improve tourism products to attract more tourists from this market, industry insiders told the 2015 International Travel Expo HCM City yesterday.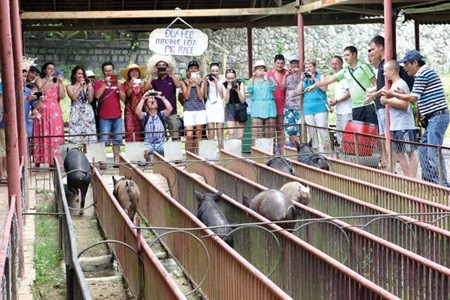 Tourists watch a pig race at the Yang Bay tourist park in Khanh Hoa province. —VNA/VNS Photo Tran Le Lam
Vu The Binh, chairman of the Viet Nam Society of Travel Agents (VISTA), said although Western Europe is a "high-ranking", traditional, important, and stable market for Viet Nam, the country does not promote its tourism enough in the region except in Germany and Britain.
It also lacks skilled human resources to serve visitors from Western Europe, he said.
Tran The Dung, trade research and development director at Fiditour, blamed the euro's continuing fall for the increasing cost of travelling to Viet Nam.
"Western European tourists are temporarily choosing to visit countries that use the euro."
And, though the tourism industry in the country has fallen on hard times, prices have not declined, and in fact entry tickets at many tourist spots in Quang Binh and Quang Nam have gone up by 50-100 per cent, he said.
He also listed other shortcomings like failure to publicise the plethora of colourful cultural festivals in the country that tourists can attend and unhealthy competition between travel companies.
The visa exemption for the five European countries has been mooted for just one year and that is not enough, he added.
Le Tuan Linh, general director of Phuong Hoang Tourism Company, said tourists from Western Europe had preferred Viet Nam since the ends of the 1980s, and it has been a steadily growing market for many years.
However, in the first eight months of this year arrivals from 12 countries in Western Europe decreased by 3 per cent year-on-year.
"Only tourist numbers from Spain and Italy increased slightly."
The causes include the economic situation in Europe and a "poverty" of tourism products in Viet Nam, Linh said, also pointing out that Viet Nam offers mainly adventure and cultural tours, which attracts a visitor just once.
"Tourists from this market are especially sensitive to environmental issues.
"Ha Long Bay is a must-visit destination for any Western European tourist, but it usually attracts complaints about the environment."
Visitors from the UK, France, Germany, Italy, and Spain can enter Viet Nam without a visa for 15 days, but this should be increased to 30 days, or at least 21, since visitors from such far places would like to travel for longer, he said.
He too called for continuing with the policy for at least two years instead of the current one, and extending it to all European countries.
Tourism authorities and travel agencies should work together to offer more attractive and competitively priced tours, he added.
Alfonso Tera, Spain's ambassador to Viet Nam, said Spanish tourists came to Viet Nam "for a reason."
"They come looking for adventure and nature, and appreciate the kindness of the Vietnamese."
What the country should do is protect the environment at major tourist sites, train service providers, and improve road safety and medical care, he added.
Binh said enhancing the effectiveness of tourism promotion was the most important factor in attracting Western Europeans.
To get the best out of the visa policy, tourism agencies should offer short adventure and leisure tours for the five to six million West Europeans studying or working in Southeast Asia, and 10-15-day tours for people living in Western Europe, he said.
The tours should focus on visiting heritage sites and discovering traditional cultural places, he said.
VISTA was working with provincial tourism associations on a programme to stimulate demand in Western Europe, he said.
Viet Nam should have a "strong" cultural flavour in its tourism and take part in important tourism events in Europe, he said.
It should immediately organise road shows in the five Western European countries to spread information about the visa waiver and tourism stimulation programmes.
In the long term, Viet Nam should improve its participation in two leading tourism fairs – ITB Berlin and WTM (the UK) – he said.
Media interactions and seminars to highlight Viet Nam's tourism attractions should be held there to catch the attention of international travel companies and local people.
Kai Partale, tourism specialist for the ESRT Programme, said Europe was one of the most important tourism markets for Viet Nam, generating in excess of a million arrivals a year.
Europeans accounted for 15 per cent of international arrivals in Viet Nam last year, and their numbers increased by 5.35 per cent a year between 2010 and 2014, he said.
Europeans also stayed among the longest – around 13.29 days on average last year – and spent a lot, he said.
Viet Nam would needs to improve its tourism products to excite customers, improve communications, and strengthen its tourism brand with consistent messages, he said.
ESRT, short for Environmentally and Socially Responsible Tourism Capacity Development, is a EU-funded programme for policy support and institutional strengthening, product competitiveness and public-private dialogue, and vocational education and training.