Ben Tre Province is a land of many canals and islands. The weather is temperate and cool all year round. Its tourism is considered a 'sleeping princess that has been slowly waking,' yet its potential has still been barely met.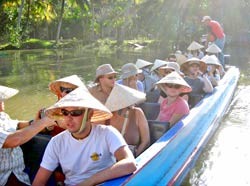 Tourists visit the Mekong Delta Province of Ben Tre (Photo: SGGP)
Coming to Ben Tre, tourists feel close to the area called land of coconut, as it is covered by 44,000 hectares of coconut trees.
Ben Tre and its fame for fruit is heightened by Cho Lach District, known as a kingdom of fruit, with numerous fruit gardens catching the eyes of visitors.
This coconut land also attracts tourists with its rich history and depth of culture.
The tomb of Nguyen Dinh Chieu, a patriotic Confucian scholar in 19th century is at An Duc Commune, Ba Tri District.
The patriotic poet was not born in the area, but he had chosen to live there toward the end of his life. During his remaining years there, he taught, wrote poems and treated diseases.
Coming to Ben Tre, tourists also have chances to discover important historical people from the South, like the famous teacher Vo Truong Toan, military commander Nguyen Ngoc Thang, female general Nguyen Thi Dinh and the patriotic poet Phan Van Tri.
Ben Tre has around 207 communal houses in villages, with the most outstanding house, Phu Tu, located in Ben Tre Town. The house is famous for its 300 year old white plum blossom tree.
Other communal houses, like Dinh Hoa in Giong Trom District and Phu Le in Ba Tri District, were witness to the cruel Ngo Dinh Diem regime, which killed many patriotic people, often using guillotines, in the second half of the 19th century.
In Dai Dien Commune, Thanh Phu District, there is a 100 year old house with patterned columns that were carved skillfully by talented artisans.
Islands in Ben Tre lay along four branches of the Mekong River. Each island has its own attractive feature.
However, all of them have at some point been covered by the green of coconut gardens, as well as other orchards with mangosteens, durian, banana, longan, and rambutan.
Tourists can also contemplate while walking around the beautiful ornamental plant gardens in the province.
Making use of Ben Tre's tourist potential
Ben Tre tourism has a greater potential over other provinces in the region, however the tourist industry has not attracted many visitors.
Tourists come to Ben Tre and leave very soon after due to the poor infrastructure.
The number of tour guides is also limited by quantity and quality.
Ben Tre needs to invest more to effectively make use of its tourist potential, said Juan Ovejero Dohn, chief consultant for the management board of the General Department of Tourism's project on developing Mekong tourism.
However, Ben Tre now has seven travel companies with 39 tourist spots and 37 places for tourists to stay, among them a three star hotel.
Sine the beginning of the year, the number of tourists coming to Ben Tre has tripled over the same period last year, with 213,000 tourists, nearly 71,000 from overseas.
The number of tourists coming to the province has been rising steadily, leading to many tourism companies investing in infrastructure.
For example, Ba Lai Seafood has invested in Thua Duc Resort in Binh Dai District.
A HCMC based company, Phuoc Kien, is waiting for a license to build a resort in Phu Tuc Commune and An Phu resettlement area in Chau Thanh District.
Vinashin Petroleum Investment and Transport is waiting for a license to build a floating hotel and restaurant.