Vietnam Airlines said Tuesday that it would inaugurate Cambodia's new national carrier Cambodia Angkor Air on July 27 at Phnom Penh International Airport.
According to The Phnom Penh Post, the new national carrier of Cambodia is a joint venture between the Cambodian government and Vietnam Airlines, Vietnam's national carrier. Cambodia owns a 51-percent stake in the company, and Vietnam owns the remainder.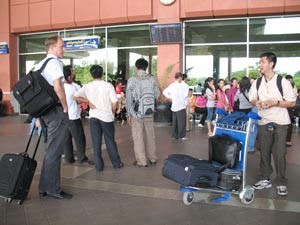 The inauguration of Cambodia's new national carrier will take place at Phnom Penh International Airport (photo), Cambodia's State Secretariat of Civil Aviation said. (Photo: Tuong Thuy)
The Cambodian government has announced that the July 27 inaugural flight of the new national airline will not leave from the newly upgraded Preah Sihanouk International Airport, but will instead fly from Phnom Penh International Airport, The Phnom Penh Post reported.
The newspaper added that Cambodian minister of tourism Thong Khon confirmed the switch, and said the inaugural flights would go from Phnom Penh to Sihanoukville and to Siem Reap, which is home to worldwide famous Angkor Wat.
The tourism industry is one of Cambodia's main resources of government revenue and accounts for 15 percent of the national GDP and employs tens of thousands of people, and indirectly benefits many more, according to government figures. Angkor Wat is the World Heritage of Humanity and is the most attractive place for many tourists.
Vietnam took the lead in the number of foreign arrivals to Cambodia in the first five months of the year with 122,000 tourists, accounting for 12.8 percent, Vietnam News Agency reported.
In July, three new Cambodia-Vietnam border crossing gates were opened in a measure designed to attract more tourists.
About 10 years ago, Cambodia's national airline Royal Air Cambodge went bankrupt. Later on, Prime Minister Hun Sen launched an open-sky policy. At present, Siem Reap Airways, a carrier with Thai roots, is one of airlines flying between Phnom Penh and Siem Reap.