The facilities at Can Tho Airport are being upgraded to enable it to receive domestic flights in 2008 and international flights by the end of 2009.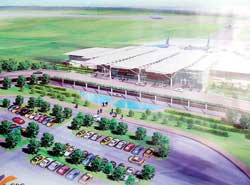 The model of Can Tho airport
The Southern Airport Authority and the People's Committee of Can Tho City made the announcement along with other information regarding long-term plans for the airport from now until 2015 and 2025.
The planned upgrades will raise the airport's classification to the Grade 4E ICAO (International Civil Aviation Organization) standard allowing landings by larger aircraft (including the B777 and B747-400) on international flights. The upgrades will also enable the airport to process passengers at a rate of 800 per hour or 950,000 per year.
Total investment capital in the project from now until 2025 is expected to reach more than VND11, 000 billion.