The 2008 National Tourism Year, themed "The Mekong Delta's Waterways and Countryside," will open on the Cai Khe island located on the bank of
the
Hau River on February 21, 2008 and will last to the end of the year, according to the host city of Can Tho.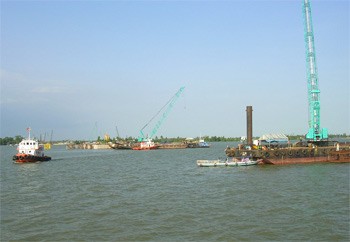 Hau River in heart of Can Tho City (Photo:KK)
The big tourism event includes an announcement ceremony of the 2008 tourism year, the inauguration ceremony of the Can Tho International Airport, sport and cultural festivals of Khmer ethnic minorities, the inauguration ceremony of the Can Tho Bridge, an event celebrating the 5th anniversary of Can Tho's recognition as a first-rank city by the government, and a New Year Festival 2009.
Several festivals displaying the Mekong Delta's unique characteristics and numerous cultural activities will be held in Can Tho and its neighboring cities and provinces throughout the year.
Local authorities have spent tens of billions of VND to improve infrastructure and upgrade access to tourist facilities for the event.