The Vietnamese government has approved Can Tho's application to make 2008 a National Tourism Year in the Mekong Delta city, an official from the Vietnam National Administration of Tourism said.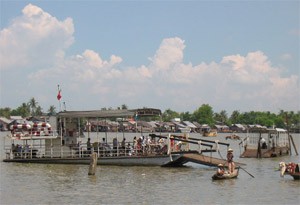 Tours in Mekong delta rivers are always atrractive to foreign tourists
The main purpose of the project is to promote organized tours in the delta region.
The details have yet to be worked out so contributions are being sought from government agencies, local authorities and artists, after which the organizers will decide the specific festivities for next year.
To prepare for the event, construction of Can Tho Bridge and Airport needs to be completed, the official said.