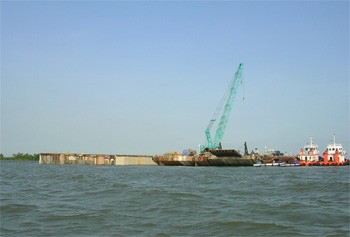 Can Tho Bridge is under construction (Photo: KK)
"To promote tourism in the Mekong Delta, the Viet Nam National Administration of Tourism (VNAT) has officially chosen Can Tho as the host city for Tourism Year 2008 and chosen its theme to be 'The Mekong Delta's waterways and countryside'," explained the director of the Can Tho Department of Tourism, Dinh Viet Khanh.
The city's authorities have submitted a program proposal to the VNAT and the government for their approval. Several festivals displaying the Mekong Delta's unique characteristics will be held in Can Tho throughout the year to inaugurate national projects including the new Can Tho Bridge and Airport, and will help in celebrating the 5th anniversary of the unified city.