Readers of the American magazine The Robb Report have voted the Caravelle Hotel in Ho Chi Minh City as one of the luxury 100 hotels in the world. Back on July 28, the Viet Nam Tourism Association listed the Caravelle as one of its top ten hotels of 2005.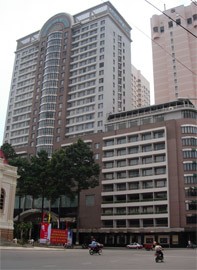 Caravelle Hotel in HCMC (Photo : Kim Khanh)
It is reportedly the only Ho Chi Minh City establishment on the luxury 100 list.
Beside an ideal location, accommodation and high-grade facilities, the winning hotels have to inspire the best things of the cities where they are located. Their competent and wholehearted staff must have a wide knowledge of their cities for the benefit of guests.
The Caravelle Hotel is located in Lam Son Square opposite the Opera House in the heart of town.
It has five restaurants and bars, including an open-air rooftop bar with panoramic views of the city. It comprises two buildings: the original 10-floor Caravelle and a 24-story tower added in 1998.