Over the past years an increasing number of international tourists have chosen the central region of Vietnam as a favourite travel destination.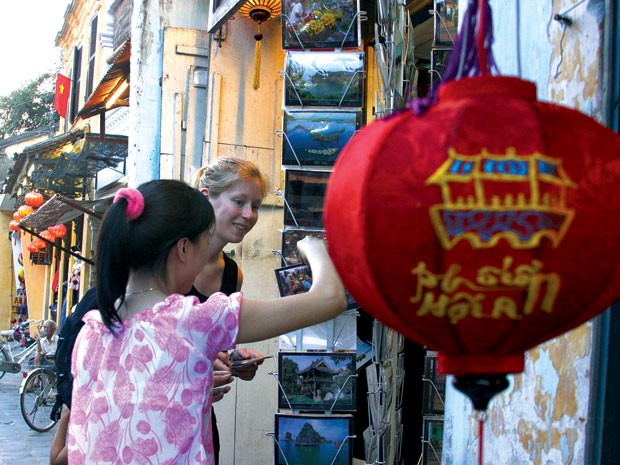 A Russian tourist buys souvenirs at a gift shop in Mui Ne.
Russian tourists in particular have swamped the towns of Central Vietnam making it a popular destination for their countrymen.
400,000 international tourists visited Khanh Hoa Province in 2010, continuing to affirm its position as the most attractive tourist site in the Central region. 30,000 Russian tourists came to Khanh Hoa last year, an increase of 30% compared to 2009. Russians form the fourth largest tourist group to patronise Khanh Hoa Province.
Nguyen Van Thanh, director of Khanh Hoa Tourism & Trade Promotion Centre said that Russia was offering flights from two of its cities to Cam Ranh Airport and was greatly boosting the country's tourist trade.
It is anticipated that Khanh Hoa province will continue to be an attractive tourist destination for Russians in the near future. Khanh Hoa tourism sector is expecting to welcome around 50,000 Russian tourists this year.
Binh Thuan Province also has a very large number of Russian tourists. In 2009, the province welcomed nearly 30,000 Russian tourists and 2010 welcomed 57,000 Russian visitors.
In the beginning of this year, Russian tourists accounted for one third of the province's total 35,000 visitors.
Nguyen Van Khoa, chairman of Binh Thuan Tourism Association said that the increase in the number of Russian visitors is due to Russia having opened direct flights to Cam Ranh Airport in Khanh Hoa Province.
Valeriy, a Russian tourist on Nha Trang Beach, said he is a pilot and has travelled to many countries in the world. However, he and his family only like to visit Vietnam, because Vietnam has so many natural beaches and one of the nicest parts of the country was the Central region. He added that sea food in the Central region was plentiful and so fresh.
According to reports from tourist agencies, generally Russian visitors are friendly and easy-going. Most of them are young people and most of them prefer the Central region. They like spending money on tourist services and buying souvenirs. It is a favourite destination of middle-aged people because they want to recall memories of the days when they worked in Vietnam and want to see the new changes in Vietnam now.
However, the province still lacks Russian speaking tour guides. Currently, Khanh Hoa Province has only 20 tour guides, who can speak Russian. Some time ago, a few tourist agencies had organized Russian classes but that did not meet expectations.