Fourteen provinces in the north central and south central regions have rich and diversified tourist potentials but they have been exploited poorly and effectively with a lack of connectivity among provinces, said experts at a seminar hosted in the north central province of Nghe An yesterday.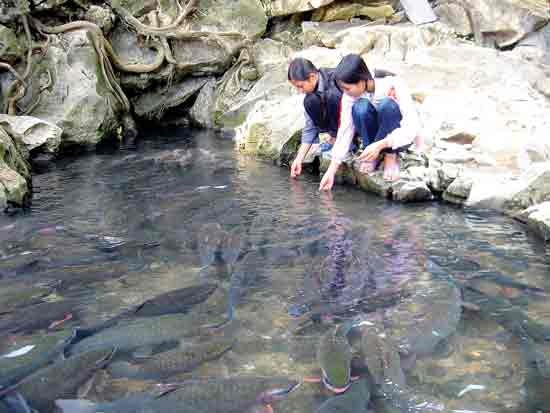 Cam Luong fish stream, the attractive destination for visitors to Thanh Hoa province (Photo: SGGP)
The event was hosted by the Central Institute of Economic Management (CIEM), the Ministry of Culture, Sports and Tourism and the Bank for Investment and Development of Vietnam, attended by Minister of Public Security Tran Dai Quang, CIEM head professor Vuong Dinh Hue and over 400 managers, scientists, economic and tourist experts.
The north and south central regions stretch from Thanh Hoa to Binh Thuan provinces accounting for two thirds of the country's coast area with well-known beaches namely Sam Son, Cua Lo, Thien Cam, Nhat Le, Cua Tung, Lang Co, My Khe, An Bang, Nha Trang and Mui Ne.
These regions are home to UNESCO recognized heritages Hue ancient capital, My Son holy land, Hoi An ancient town, Phong Nha-Ke Bang and Ho Dynasty citadel.
Besides there are many cultural and historical relic sites related to the establishment and development of the regions such as Kim Lien relic site--native land of late President Ho Chi Minh, Ngu Hanh Son (Marble) mountains, Tra Kieu--the first capital of the Hindu Champa Kingdom, Vinh Moc tunnels, Quang Tri ancient citadel, Road 9-Khe Sanh, Ho Chi Minh trail or highway now, Dong Loc crossroads, Truong Bon and the grave of late General Vo Nguyen Giap.
The area also includes rich and diversified intangible heritages such as Hue royal court music, Nghe Tinh Vi Dam fork singing recognized by UNESCO as an intangible cultural heritage of humanity, Lam Kinh festival, Cuong Temple festival, Hon Chen Temple festival, Hoang Sa Soldier Feast and Commemoration Festival, Hue Festival, Binh Dinh martial arts festival and Nha Trang sea festival.
The north central is linked up to the south central with the National Highway 1A and the North South Railway. They have nine airports including four international, locates in the gateway of the East West economic corridor connecting with provinces in the Central Highlands, trades with four nations in the Mekong sub-region namely Laos, Thailand, Cambodia and Myanmar.
According to the plan on tourist human resource development in the phase of 2011-2020, the north central region accounts for 8.7 percent and the south central 7.3 percent of the country's tourist human resource, said associate professor Le Anh Tuan from the training department of the Cultural, Sports and Tourism Ministry.
Tourist development has been inappropriate with the rich potentials in each province and the entire regions. There has no breakthrough to make tourism the key economic sector. Development has been unsustainable and contained many dangers with a shortage of connectivity among localities.
Associate professor Pham Trung Luong from the Environment and Sustainable Development Institute said that tourist advertisement and promotion with lack of coordination among localities has wasted human resources and considerably limited the results of these activities in regional and provincial scales.
Every summer central coastal provinces are busy with festivals which have been organized separately without any coordination. For instance, in the national tourist year 2006 Hue Festival was hosted at the same time with Quang Nam tourist festival 'One destination, two heritages' but these two provinces did not inform each other. Sometimes Quang Nam opened festival 'Hoi An-summer emotion' while Thua Thien-Hue hosted 'Lang Co-Sea Legend'.
Dr. Tran Dinh Thien, head of the Vietnam Economics Institute, said that provinces in the north central region have worked in a 'local self help' manner to develop tourism, making it separately, tattered and poor.
The main tourist form has been sea swimming which is seasonable, monotonous and weather dependent.
Dr. Thien prompted local authorities to delete their thought of 'our province's tourism' and sit together to select a head of a regional management board to develop the tourist industry.