Central Vietnam has great potential for developing into an attractive tourist destination with its vast beautiful beaches and a number of world heritage sites.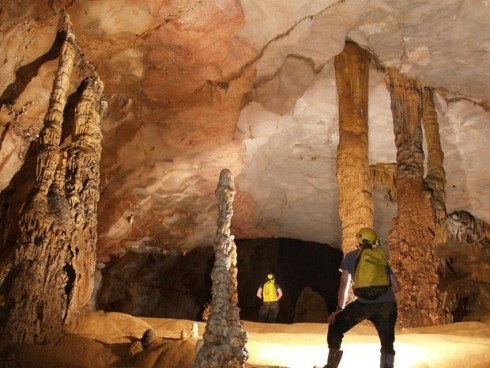 A cave in Phong Nha-Ke Bang National Park in the central province of Quang Binh
For this reason many hotels, restaurants and resorts have sprung up here in recent years, however, trained human resource is still lacking to make the tourist sector more effective and vibrant.
 
According to travel agents operating in Central Vietnam, at least 35 qualified Thai speaking tourist guides are immediately required for Thai visitors. There also is a severe shortage of Lao tourist guides as well.
In the entire central area from Thua Thien-Hue to Thanh Hoa Province there is only one tourist guide in Quang Tri who can speak the Lao language.
 
Resorts and hotels in Thua Thien-Hue Province are short of staff who can speak Thai and Lao languages while the number of holidaymakers from the two countries account for 40 percent of tourists to the region.
Staff members in resorts and hotels only speak English to Lao and Thai people, and that too not very well. The language and culture difference is a great barrier in providing good service in these places.
 
The central city of Da Nang is the first holiday destination tourist arrive at by air or sea, to continue their trip to the ancient citadel of Hue; the ancient town of Hoi An-a UNESCO World Heritage Site; the World Cultural Heritage Site of My Son; Phong Nha-Ke Bang National Park in the central province of Quang Binh-another UNESCO World Heritage Site.
The City is also facing a shortage of chefs, staff workers and security guards at hotels and resorts. As a result they have to employ unskilled persons for the jobs which only lead to endless complaints from tourists.
 
As the country cannot meet the requirements of tourists, travel groups to Vietnam bring their own native tourist guides with them for tours.
 
Nguyen Van Thang, an inspector in the Department of Culture, Sports and Tourism in Thua Thien-Hue, said many travel agents with headquarters in Ho Chi Minh City and Hanoi and branches in Da Nang City have organized tours to take Korean holidaymakers for which they use Korean tourist guides. Korean guides have little knowledge of Vietnam and can make mistakes in interpreting Vietnamese culture, traditions and customs to tourists.
 
While checking on tourist destinations, inspectors from the department of Culture, Sports and Tourism and the police in Thua Thien-Hue Province found and penalized five foreign men acting as tourist guides.
 
Huynh Tan Vinh, chairman of Da Nang Tourism Association, said currently vocational training schools for tourism in Da Nang provide the sector with around 1,000 students a year, whereas Da Nang will have around 15,000 rooms in four and five star hotels by 2015. It is estimated that the sector needs an additional 20,000 labor force.
 
Especially this year, many airlines are considering opening new international flight routes from Hong Kong and Bangkok to Da Nang in addition to available flight routes from Korea, Shanghai, and Guangzhou. As a result the demand for tourist guides and staff in the tourism sector will be most needed. This will lead to a hunt for skilled staff by resorts and hotels.
 
It is forecast that by 2015 the number of Lao and Thai holidaymakers to Central Vietnam through the East-West Economic Corridor and adjacent areas will be one million a year. Accordingly, the central provinces will need at least 100 Thai and Lao speaking tourist guides, as well as a large staff for hotels and resorts.
Tran Thi Mai, former president of Tourism Training College, said Vietnam has so far focused on promoting tourist destinations and construction of resorts and hotels, but totally neglected training of tourist guides and staff for this sector. It is high time more people are trained to meet the demands in this all important tourism sector, Mai said.