Textile villages, traditional ceramic villages and ancient towers and folk festivals are attracting tourists to discover the Cham Culture.

The traditional trade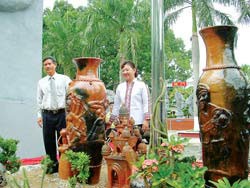 Two biggest Bau Truc ceramic vases in Viet Nam were displayed in Dam Sen Park in the lunar New Year 2006.
Palay Hamuk (Bau Truc in Vietnamese) village is about 10 kilometers from southern Phan Rang – Thap Cham Town with more than 440 households. About 80% of them are involved in the production of ceramic, a traditional ceramic making craft that has been handed down from generation to generation.
The Cham legend has it that the ancestor of ceramic making craft is Poklong Chanh. He taught village women this craft thousands of years ago. The Cham people built a temple in the village to commemorate his merit and worship in the annual Kate folk festival.
To Cham people, all of women must know ceramic production.  The girls of plu-mo-thun age (teenagers) are taught the craft by their mothers.
Mr Tran The Dung, manager of The Youth Travel Company said that there are 22 Cham villages with more than 57,000 people in Ninh Thuan province. But only Palay Hamuk village's women can produce good and beautiful ceramics products with the village clay.
The craftwoman seems to have put all her soul to every grain of clay, every line of pattern on each product. Even if a product was sold out for 5 or 10 years, the maker still can recognize it.
The clay is taken from the fields in Palay Hamuk, ground and mixed with water in a hole. The mixture is then blended with soft sand and well kneaded.
The Cham women will place the substance on a table, moving around their art work, molding and shaping the pieces, smoothing the outside with a bamboo slat and baked it in an open furnace. After 4-5 hours, the creation will have the red color of fire and the fresh sand.
About 15 kilometers north of Phan Rang is My Nghiep, another well-known Cham village. Inrahani Cham brocade textile firm is producing thousands of meters of brocade yearly to supply to the markets everywhere.

The needed improvement for products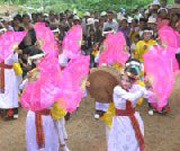 The Cham's dance in the Kate folk festival
It is said that field-mouse meat is also one of best foods of the Cham and it is not expensive. Most of the Cham people enjoy having this meat with rice wine.
In addition to ancient towers of Pklong Garai , Poreme , Hoa Lai and Ponagar Temple, visitors should come to Ninh Phuoc District to see how artisans make the Baranung drum, Ghi Nang drum and Saranai clarinet.
If it is not on the occasion of Kate folk festival, visitors can enjoy traditional musical performances by artists of The Cham Folk Art Troupe.
They can come to Cham Culture Research Center to see Cham artist Dang Nang Tho showing off his sleight-of-hand in sculpture or Cham traditional activities, clothes and tools.
According to Dr. Phan Quoc Anh, vice manager of Ninh Thuan province's Culture and Information Department, turning Cham culture into a special tourist product is not difficult, but the difficult task is how to select and improve these products to attract tourists.