A ceremony marking the 7th anniversary celebration of the Cu Lao Cham Marine Park having been recognized as a global Biosphere Reserve by UNESCO was held on May 26 by the Management Board of Cham Island and the People's Committee of Hoi An Town in the central coastal province of Quang Nam.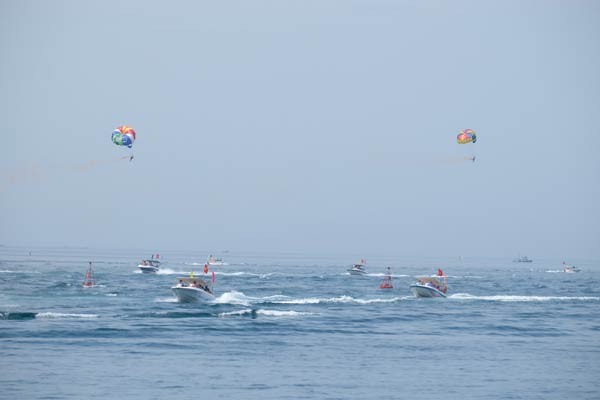 Art performance of 90 canoes  (Photo: Sggp)
Many cultural and sports activities were organized during the event, dragon dance, diving competition, folk music performance and among.

One of the highlights was a performance of 90 canoes by local travel businesses and an art program featuring daily life of local people in the island.

Cu Lao Cham (Cham Island), in Hoi An town of the central province of Quang Nam, received recognition as a world biosphere reserve by UNESCO one year ago, is regarded as a biological tourist heaven, attracting large numbers of visitors.

The archipelago, with eight big and small islands covers an area of 15 square kilometers.
 
According to scientists, Cu Lao Cham is home to over 947 species, of which 170 are sea organisms, 50 are fish, and many other species classified as endangered by Vietnam's Red Book.
 
The area is also home to 135 species of coral, including six that are new to Vietnamese seas.
 
Travelers are very interested in visiting Cu Lao Cham because of its wilderness, seafood and hospitality. Visitors can also explore hidden beauty underwater with thousands of splendid coral with scuba diving tours.

The destination has received around 2,000 domestic and international tourists every day and a large number of 7,000 visitors during peak hours.