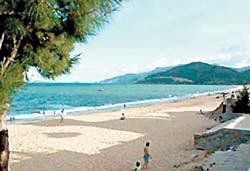 Quy Nhon Beach
After a 55 minute flight from Ho Chi Minh City, Quy Nhon city, Binh Dinh province, will appear with the warm beaches which sloped gently into the sea and smooth waves. Besides, its history and culture are also well-known. Now, Quy Nhon still keeps its rare and simple beauty.


On the way to Quy Nhon, across the incandescent golden rice fields, ranges after ranges of mountains and some slopes, Ghenh Rang, Quy Hoa, appears the most beautiful beaches in the province.
On the mountain side of Ghenh Rang, visitors can see the eastearn part of Quy Nhon city. The Quy Nhon's sunset can be enjoyed from here and the landscape is also very attractive after dark.
The waves are fluttering softly, flaked with flickering lights from fishing boats in the distance, white sandy beaches stretching out as far as the eye can see.
On the right side, white roofed houses are bobbing up and down to be punctuated by occasional appearance of tall churches' towers.
Tranquility, originality and distinctiveness are just a few words that can be used to describe the beauty of this place.
In Quy Nhon, tourists can hire a boat to explore the islands, contemplate the coral, come to Ham Ho Ecological Tourist Area to dip yourself in the fabulous hot water-spring, or to pay a visit to Quang Trung Museum where the famous Vietnamese traditional drumming martial arts is still preserved.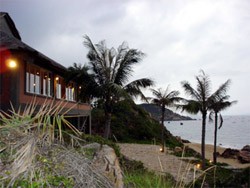 Life Resort Quy Nhon
Variety is the word when it comes to cuisine of the local area, especially the sauces. Each kind of foods is accompanied by a specific kind of sauce.

The speciality is Nem Cho Huyen (pork hash wrapped in banana leaf). Instead of eating it fresh, tourists can grill and eat Nem with garlic. The rich and fatty taste of the Nem is somehow blended and neutralized by the pungency of garlic to produce a unique combination.

Sea food is very delicious and cheap. Besides crab, oyster, Xia, a kind of clam, should not be missed as it is very nice. Wanting to enjoy delicious sea food, visitors should come to the family restaurants on Tran Doc and Phan Dinh Phung Streets.

Apart from that, tourists can also enjoy Bun Cha Ca Quy Nhon (noodles and grilled fish meat) at the corner of Le Loi-Tang Bat Ho.