Economic recession and A/H1N1 flu have seriously affected Vietnam's tourism industry. The number of international tourists arriving in the country in the first nine months of the year has fallen. However, domestic tourist numbers have grown 30 percent.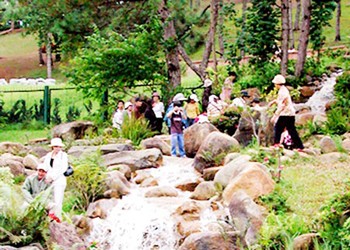 Thung Lung Vang ecological tourist site in the Central Highlands province of Lam Dong attracts many domestic tourists (Photo: SGGP)
The growth in domestic tourism has resulted from a 60 percent discount on airfares by the State-owned carrier Vietnam Airlines (VNA).
The airline is providing the discount for domestic tours as a response to Vietnam National Administration of Tourism's domestic tourist stimulation program at the beginning of 2009.
 
In costs of domestic package tours, air tickets account for 40 percent.
The airfare discount has been considered an unheard-of break through in the history of country's aviation industry.
A five day and four night tour from HCMC to Northern provinces, which had earlier cost between VND8million and 9 million, has fallen to VND5 to 6 million.
Companies have still met difficulties with some conditions by VNA. Tran The Dung, deputy director of The He Tre Tourist Company in HCMC said that to get cheap tickets, his company has to gather at least ten tourists for a tour.
The promotion is also going to end by the end of September.
Companies are worried that the number of customers will fall when prices return to the old tour prices, a rise of 30 to 40 percent.
Tourist companies have proposed that VNA lengthen the program until the end of the year. VNA has not yet responded to this proposal.
However, it has announced that the airline will cut ticket prices by 60 to 70 percent for domestic and international routes from October 1 to January 31 next year.
Domestic tourist stimulation
According to some officials from the UN's World Tourism Organization (UNWTO) and Pacific Asia Travel Association (PATA) at a seminar recently held in HCMC to develop Vietnam tourism in the global financial crisis, the number of international tourists arriving in Vietnam in the beginning months of the year saw the biggest reduction among ASEAN countries.
To make up for the reduction of international visitors, the country should focus on domestic customers.
The government should have longer lasting stimulus policies, with airlines always providing some form of promotion and tourist companies diversifying tourist services to develop domestic tourism.