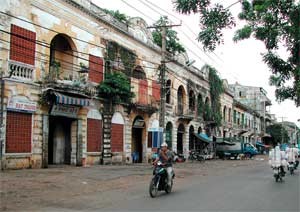 A street in District 5
The old center of Cho Lon is located in District 5, with more than 80,000 Chinese Vietnamese. Today China Town is still developing continuously.

Chinese people often competed with each other in building pagodas and temples when they just came to Saigon. Ba Chua (three pagodas) Hamlet is the center of three pagodas: Nghia An, Thien Hau, Tam Hoi Mieu. Their materials and architectural styles influenced by Chinese culture, still keep their majestic image and people come to worship and burn incense sticks everyday. These pagodas keep Chinese people's spirits and culture. The annual festival on March 23 of the lunar calendar is "Via Ba" (a worship ceremony to an ancestral Mother), which attracts many Chinese people and visitors.

In the French colonial rule, Tran Hung Dao Street was named Marins and then changed to Dong Khanh. It now connects District 1 to the end of District 5. Formerly few people called this street with its formal name but a nickname describing one of its characters, "Hang Chao Muoi" Street ( Chao Muoi : salt rice porridge), because there were many Chinese shops only selling porridge along this street. It was a famous eating place with many kinds of porridge, such as dried fish porridge mixed with "Tan O" vegetable, abalone porridge, tiny-shrimp wrapped flour…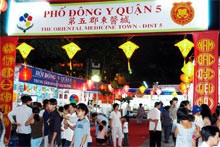 The oriental medicine town
"Night eating" is a Saigonese interesting hobby. In the evening, a lot of shops and inns are very crowded. Most of them have their specific names, but all end with " Ky" word. Other Chinese food such as braised duck noodle, fried noodle, sauté Pho, fish soup, chicken rice, sweet soups … also appeal to visitors.

At the end of Tran Hung Dao Street, turning to Chau Van Liem Street, you will be led to the busiest center of Cho Lon with a series of wholesale markets , such as Binh Tay, Kim Bien, Hai Thuong Lan Ong stationery market, Mai Xuan Thuong vegetable market, Soai Kinh Lam material market… The business is always brisk. Foreign visitors are fond of coming this trade center, not for shopping but sightseeing. They like to see daily bustling activities here with their own eyes.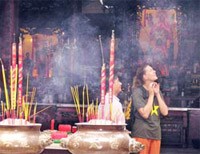 Foreign tourists visit Thien Hau pagoda
Hai Thuong Lan Ong Street, which is named after a Vietnamese famous traditional herbalist, is an oriental medicine street in China Town with hundreds of Chinese traditional medicine stores. This is an attractive place for foreign visitors, who can walk along the street and enjoy the good smells from medicine shops. They can also ask about the price of natural medicine, feel them with their own hands, and see the difference from western medicine. Chinese traditional medicine is just mushroom, dried leaf, peel of a chunk of wood or snakes, seahorses…while western medicine is tablets or bills.

In the evening, main streets in China Town are lit up splendidly by hundreds of red lanterns. Some projects to plan and restore Chinese cultural streets are carried out soon by District 5. At that time China Town will probably become an attractive destination for visitors.