Deputy chairman of Ho Chi Minh City People's Committee Le Van Khoa on January 1 at Tan Son Nhat International Airport greeted a group of 500 passengers as the first international visitors to Ho Chi Minh City in 2016 . They arrived in the city on three flights from Hong Kong (China),  Taiwan's Kaohsiung (China).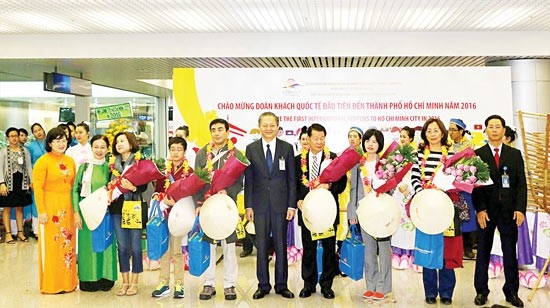 Ho Chi Minh City's leaders welcome first visitors to the city on New Year day.
Visitors had a meeting with local authorities' leaders, enjoyed a Vietnamese traditional music performance and received gifts from tourism enterprises in the city.
The city received 4.6 million foreign travelers, posting a year-on-year increase of 4.6 percent; 19.3 million local visitors, up 13 percent versus last year.The total revenue from the city tourism industry was VND94, 600 billion, up 10 percent over the same period last year.
The countries sending the largest number of tourists to the southern hub were Singapore (up 19 percent), South Korea (up 17 percent), Taiwan (China) (up 12 percent), the U.S. (up 5 percent).
On the same day, Hanoi Department of Tourism and Vietnam Airlines Corporation organized a ceremony at Thang Long Royal Citadel to welcome the first visitors to Hanoi in the New Year day. It was a French couple, Buisson Bernard and Florence Bernard. It is the first time that they travel to Vietnam and booked a Trans-Vietnam journey in 14 days.
The visitors  are exempted from visa for their travels, in accorndace with a decision on granting visa exemption to those who are living in five European countries.  Travelers from Britain, Germany, France, Italy and Spain will not require a visa to visit Vietnam from July 1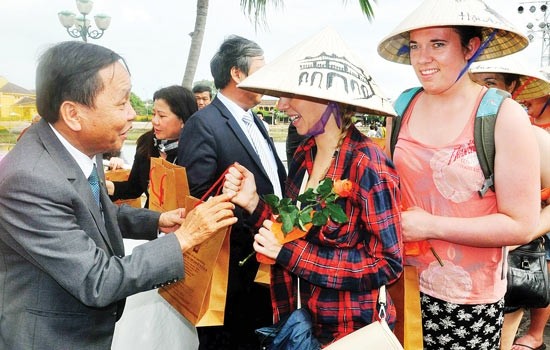 Local authorities offers gifts to tourists in Quang Nam Province.
Vietnam's capital city Hanoi came fourth on the list of the world's top 25 travel destinations in 2015 , based on millions of reviews and opinions from travellers by the world's prestigious travel website TripAdvisor .
Hanoi received 3.3 international visitors, presenting a year-on-year increase of 8 percent. The number of local holiday-makers reached 16.4 million, up 6 percent compared to the last period.
The total revenue reached VND50,000 billion, up 10 percent over the same period last year.
A ceremony welcoming a group of 35 Australian tourists who were the first visitors visiting the central province of Quang Nam was held in Hoi An ancient town on January 1 by the People's Committee of Hoi An. The town greeted more than 2.1 million arrivals in 2015.
180 passngers on a flight from Singapore to Da Nang were the first comers in the central coastal city on New Year day.  The city received more than 107,000 visitors on the occasion of Christmas and New Year.