Ho Chi Minh City has 16 construction projects to build three- to five-star hotels with a total of 4,000 additional luxury rooms, including 3,730 new and 960 upgraded accommodations by 2012, according to the Department of Tourism.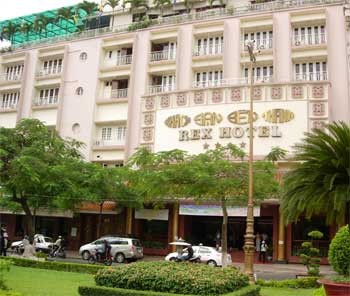 The four-star Rex Hotel is upgrading to be a five-star hotel.  (Photo:KK)
Three hotels will go into operation by the end of 2009. In addition, proposal for 22 other projects have been submitted to the authorities.

As the number of visitors increases, the authorities are concentrating on improving hotel infrastructure and the construction standards.

The city's tourism industry must have at least 17,000 luxury rooms to serve 12 millions visitors, including five million international tourists, by 2012. If the city can provides only 12,000 rooms, it will face a shortage of 5,000 rooms in 2012.

The city has 47 three- to five-star hotels available for travelers. Of these, there are only 11 five-star hotels, eight four-star hotels and 28 three-star hotels.