The number of international visitors to Ho Chi Minh City increases by around 15 percent, but investment in hotels is increasing at a rate of only 3.5 percent. The city has recently invested in various tourism projects and is expected to offer new set of products in 2010, said Ms. Dong Thi Kim Vui, director of city's Department of Tourism.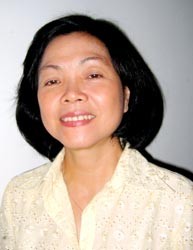 Ms. Dong Thi Kim Vui, director of HCMC Department of Tourism
There is currently a shortage of luxury rooms. It is impossible to lay blame for the price boom. Hotels may have different prices because they don't offer comparable services. Even five-star hotels in Europe don't always offer the same services as three-star hotels here. Luxury hotels are primarily for businessmen. Travel firms usually select two or three star hotels for their customers. We are now in the tourism low season, she added.
The city's strong points are not its landscapes, historical sites or heritage, but the fact that it is the economic, tourism, culture, and education center of the country. Visitors often arrive in the city before visiting other destinations in Viet Nam.
The city is making an effort to develop a MICE (meeting, incentives, conventions and exhibitions) program that has been identified as a key strategy. More luxury hotels are being built. The largest exhibition and convention center in the country is being constructed in District 7 and will be finished by the end of this year.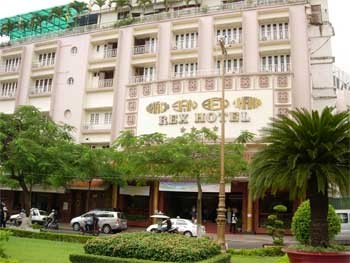 HCMC's four-star Rex hotel is upgrading into five-star hotel. (Photo:KK)
The municipal government will promote tourism in outlying areas in not-too-distant future. Entertainment areas, resorts, hospitals, metro routes and other facilities will be built in Districts 7, Cu Chi, and Can Gio.
The city is trying to meet visitors' demands by solving the problems created by peddlers, beggars and parked motorbikes that block the sidewalks. It is building more public rest-rooms on the streets, modern transportation, and installing more cash machines.
A program to promote tourism by presenting various destinations, cultural events, and aspects of the city's tourist industry will be broadcast on HCMC Television in the near future. The city will ask the government to air the show on channels broadcast abroad. The show will be organized by the city's People's Committee in association with Department of Tourism and HCMC Television.
Related article:
City's Tourism Industry Remains Underdeveloped