The Department of Transport in Ho Chi Minh City said on Thursday that the city will maintain a sufficient number of buses to meet the travel rush during the coming Tet holiday season.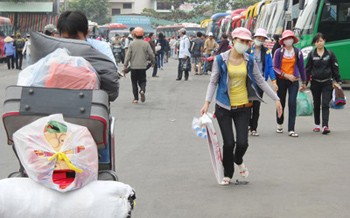 Passengers at Mien Dong Bus Station (Photo: SGGP)
Department authorities met with bus station managers and transport companies to implement a plan to serve passengers returning to their hometowns to celebrate the annual Tet holidays.
Thuong Thanh Hai, director of the Mien Dong Bus Station said that this year the demand will be higher as compared to last year on routes to the central and northern provinces. The station has thus proposed to the transport department to permit it to ply 200 more buses and allow companies operating in the station to hire extra buses to serve passengers.
Mr. Hai said that the department will contact transport departments in other provinces and cities to approve an additional charge of 60 percent on bus fares during Tet. All provinces and cities must   synchronize and apply the increased fares at the same time.
 
A representative of the Mien Tay Bus Station also forecast an increase in the number of passenger travelling during the coming Tet season by 5-10 percent over last year. The station proposed mobilizing an extra 80 buses to prevent an overload during peak days of January 19 and 20.
 
Duong Hong Thanh, deputy director of the transport department said that the department will supply Tet buses with badges so that traffic police can identify and create advantageous conditions for travel on various routes.
Besides, the department will also allow high end service providers to hire more buses provided they comply with transport regulations. The department will seek way to mobilize more buses to run on inter-province routes, in an attempt to ensure that no passenger is stranded for want of a ticket.
Bus stations must order transport companies to post fares on boards so that passengers are well informed of the fares.