MARRAKESH, Morocco (Reuters) -- Morocco's historic walled city of Marrakesh is changing fast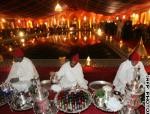 Employees serve tea in the Marrakesh Royal Palace
 and a veneer of Western influence is contrasting ever more starkly with its native Islamic core.
The heartbeat of the ancient capital, once no faster than camel caravans plying the trans-Saharan routes before the trek across the snow-capped Atlas mountains to reach the city, is partly quickening because of Morocco's drive to boost tourism.
More luxury hotels are being built with foreign investment and some of the millions of foreigners flocking to the North African country, where the legendary Berber "Pearl of the South" is a prime destination, are not just fleeting visitors.
Hundreds of Westerners, mostly Europeans, are buying up and often extravagantly renovating distinctive homes called riads, typically with scented oriental gardens in inner courtyards, in the old quarters of Marrakesh and other historic cities like Fes and Meknes to the north.
"A hundred years ago there were only a handful of foreigners living in the old town in Marrakesh. That's not very long ago in historical terms," says Dr Peter Dyer, a British expert on the city's kasbah, or fortified district, explaining that this was forbidden under the French protectorate before Morocco's independence in 1956.
"It was the French protectorate which imposed its will on the local people to separate the old city and the colonial administrative quarter," he says, referring to the Europeanized Gueliz district outside the city walls where most big hotels are located today. "The gap between them was also a sort of cordon sanitaire."
As foreigners rushed to buy riads from the 1960s onwards, led by celebrities like designer Yves Saint Laurent, Marrakesh gained a reputation as a playground for the stars.
Founded almost a millennium ago and a former capital city during the Almoravids dynasty, Marrakesh has a mystique that has attracted statesmen and big names of pop, stage and screen.
Britain's wartime prime minister Winston Churchill favored the colonial splendour and exquisite gardens of La Mamounia hotel -- almost unique in being just inside the city's pink stone walls. Mick Jagger and a string of rock musicians and bands came for extravagant parties or for inspiration.
Last month, Martin Scorsese attended the fifth Marrakesh International Film Festival. He has shot films in Morocco including "The Last Temptation of Christ" and "Kundun".
Marrakesh's reputation as a center for the glitterati might have helped boost the luxury property market. Europeans from countries including France, Italy, Spain, and Britain have bought riads as holiday homes or to rent out.
They are drawn by the charm of houses whose inner sanctums traditionally contain shady orange trees, pools filled with rose petals and central fountains. The thick, plain exterior walls, providing privacy for Muslim families and acting as a shield against the summer heat, hide often fabulous interiors.
"There is resentment in the poorer quarters, where Moroccans living in shared, rented accommodation see opulent riads built next door being used for only two weeks a year as holiday homes," says Dyer, who runs a guesthouse in an up-market district in the teeming, labyrinthine old town, or medina, which echoes to the regular call to prayer in the mosques.
But he says tenants are often relocated by owners, wishing to empty properties for sale, to outer districts with better facilities so locals are relaxed about the foreign influx.
"We feel normal about it. We're opening up to Europe now," says Abdelaziz, who helps his son run a spice and herb business in the northwest of the medina. "There are 30 foreigners owning homes in this district alone."
Taxi driver Ibrahim Oujdani agrees. "People are not worried. It's a free society here," he says.
For those foreigners tempted to buy, the journey to possessing a dream riad fit for a sultan can be arduous and prices are constantly rising, warns one foreign expert.
"Buying and selling riads can be a nightmare scenario," says Chris Lawrence of the British-based travel firm Best of Morocco, emphasizing the need for an experienced legal representative, known as a notary, because of the many possible pitfalls.
"You have to get yourself a good notary, have nerves of steel and infinite patience," says Lawrence.
Foreigners are buying not just in Marrakesh, but in cities like the coastal resort of Essaouira, Fes and Meknes, Morocco's commercial hub Casablanca and the northern resort of Tangier.
In Marrakesh, a sign of the pace of change is that the riad buying spree in the old town in recent years may have peaked. The trend may now be towards property in the fertile Ourika valley south of the city, under dramatic snow-capped Atlas peaks, or quieter areas on the Atlantic coast, says Lawrence.
But riads can still command prices at least as high as 20 million dirhams ($2.2 million), says Rachid Chnini of local estate agent Vernet Immobilier.
"Marrakesh has become cleaner and better organized, moving closer to meeting European standards," he says.
Security has become considerably tighter, he adds.
Morocco is attracting more tourists after the slumps caused by the Sept. 11 attacks in the United States, the 2003 Casablanca bombings and a 1994 gun attack by an Islamist group in Marrakesh in which two Spanish tourists were killed.
With the return of travelers' confidence and with Marrakesh only three hours flying time from many European centers, an ambitious development plan aims to double the number of tourists to 10 million by 2010 and includes six new seaside resorts.
A record 5.5 million tourists visited Morocco last year.
Development has been slow on what is seen as the backbone of the plan to build the six new resorts.
But a group owned by Saudi billionaire Prince Alwaleed bin Talal is to take a major stake in developing a $116 million Four Seasons hotel and resort in Marrakesh, the company said in October. The project involves a 140-room hotel and 40 villas.
Moroccans from Casablanca typically take purpose-built riads in south Marrakesh as weekend retreats.
While the influence from abroad has angered some in Marrakesh, the musicians, jugglers, snake charmers and street vendors in the city's famous central square, Jemaa el-Fna, adapt quickly.
"Lovely jubbly!" cries a vendor in the food market -- using a catchphrase of a British celebrity chef -- where a mouth-watering variety of local dishes is on offer. "Air conditioned restaurant!" he adds, waving to his open-air stall.