The People's Committee of Ho Chi Minh City has recently approved a development program for the period 2007-2010, under which related organizations and agencies will be requested to improve the city's tourism infrastructure in order to lure international tourists there.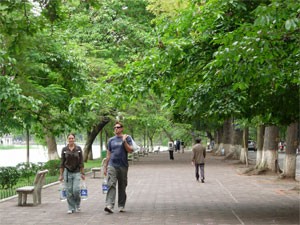 Viet Nam is now an atractive place for foreign tourists (Photo: Thuy Hang)

According to the program, projects will be undertaken to create more tourist services and popularize tourism activities.

It is hoped that international tourist numbers will increase from 2.35 million in 2006 to 3.65 million by 2010 and local tourists from 3.6 million to 6 million.

Based on those numbers, turnover of the City's tourism industry would be expected to increase from VN$ 16,500 billion in 2006 to VN$ 35,000 billion in 2010.

Information from the Ho Chi Minh City Department of Tourism revealed that a number of large-scale investment projects will be carried out shortly. Among them is the planned upgrade of the 99,920 sq. meter international terminal at the Tan Son Nhat International Airport.
Once completed, the airport will feature state-of-the-art equipment meeting international standards and will be able to accommodate 12 million passengers per year.

The Ho Chi Minh City Exhibition and Fair Center and Rex Hotel are also scheduled for upgrading.