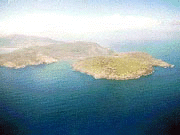 The island of Con Dao
The ATR 72 flight took off from Con Lon airport, but French tourist Ckaude Vignes still looked back through the windows until Con Dao disappeared. He said, "I will come back with a new bicycle and ride around the island".
The wild beauty

The fresh air and the peaceful quiet gave Claude a comfortable feeling. His four days of riding to almost all places introduced in the English language guide book Welcome to Con Dao didn't seem enough for him.
Englishman Gary Bruton, working for International Health Exchange and visiting Con Dao for the first time with his Spanish girlfriend, said, "It's great! Con Dao looks like heaven in the earth. My friends told me that Con Dao still has the wild beauty and we wanted to come there soon, but I could not find any guide books about Con Dao". At last, Gary bought plane tickets and booked hotel.
At first, Gary and his girlfriend intended to stay here for four days only but the island kept him for ten days. "The sea is very beautiful, especially the coral reefs. We dived and rode across the forest" Gary, said.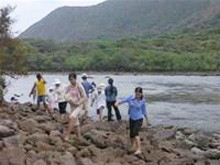 Tourists visit Con Dao National Park
Foreign tourists are also interested in Con Dao National Park, one of the first two national parks planned by government as national natural reserves.
The archipelago has natural ecosystems such as mangrove forests, coral reefs and sea grasslands, which are still in their primeval state with over 2,700 species of sea animals having been identified. Among them, there are 100 species of wild animals and plant enumerated in Vietnamese and World Red Book.
Recently Viet Nam's government suggests ASEAN (Association of Southeast Asian Nations) to recognize Con Dao National Park as ASEAN Heritage Park.
According to the management board of Con Dao resorts, Con Dao welcomed more than 13,800 tourists in 2005, of whom the number of foreign visitors increased 145.5 percent year on year. Mr. Nguyen Chi Trung, vice manager of Sai Gon-Con Dao resort, is happy with the increase. Saigontourist has invested more than VND80 billion in the expansion of Sai Gon-Con Dao resort to pre-empt the increase of tourists to Con Dao.
Which way of development is available for Con Dao?
Con Dao is so beautiful but it is not easily accessible. Now, visitors can come to Con Dao on 70-seat ART 72 flights, served by Viet Nam Air Services Company (Vasco) with three flights a week. Or, they can pay a visit to Con Dao by helicopter which departs from Vung Tau, or by 200-seat modern cruisers with the travelling time of 13-14 hours.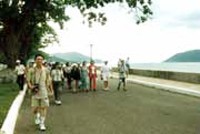 Tourists are strolling on quiet streets in Con Dao
Recently, Greenline Company launched its 155-seat hydropropelling ship, going from Ho Chi Minh City to Con Dao with four trips a week. It takes more than 4 hours to Con Dao with Greenline service. However, all kinds of sea trips are not available in heavy sea of 5-level and over.
Mr. Hoang Nghia Doan, Con Dao district's Party Committee Secretary, said that to turn Con Dao into a high quality tourist center, the district's authorities and Ba Ria Vung Tau Province's authorities have surveyed open economic zones, economic special zones for suitable models to attract domestic and foreign investment capital.
Mr. Ho Van Nien, deputy chairman of the People's Committee of Ba Ria Vung Tau province, said that the provincial authorities are working with involving departments and offices to finish several Con Dao projects, particularly the central area, Co Ong area and Dam wharf, in 2006-2007.
The province's authorities are considering inviting foreign consultative experts and organizations to study Con Dao's planning and architecture.
According to Le Xuan Ai, M.A., Director of Con Dao National Park, at present, Con Dao is developing tourism of relaxation, fishing, scuba diving, mountaineering, coordination of travel and scientific research, etc.
Con Dao's development has to be done with the reservation of natural, revolutionary and cultural heritages in mind, which helps the island develop sustainably.

The island of Con Dao is 230 kilometers from Ho Chi Minh City, situated in Ba Ria-Vung Tau Province, Originally it was used by the French to incarcerate revolutionary prisoners. Nowadays, Con Dao is considered an historical vestige where fighters for independence were held and tortured.
Con Dao island is part of an archipelago comprised of 14 islets. The area providing facilities for tourists is now a national park with beaches, crystal-clear waters and coconuts groves.
Related article:
-
Saigontourist Invests In Sai Gon – Con Dao Tourist Area