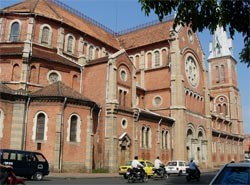 Notre Dame Cathedral, a favorite place for tourists in Ho Chi Minh City. (Photo: KK)
The "Tourist Forum" program was organized by Sai Gon Giai Phong Newspaper and Ho Chi Minh City Department of Tourism. The awarding ceremony will be held at 8PM on April 23, 2006, in Dam Sen Park for contributors to the forum.
There were 37 suggestions sent to the forum and 12 of them have been published by the Sai Gon Giai Phong Newspaper. The organization board extended their thanks to all readers who took part in the forum.
Most people were interested in solutions to Ho Chi Minh City's tourism development. Some readers sent to the forum 2-3 letters, such as Vo Viet Hoa, Le Van Quoc, Nguyen Sinh, Nguyen Tan Loc. Several representatives of tourist companies also contributed their ideas on human resources, the playing-fields for tourists or the welcome of tourists.
Ms To Nga, an accountant in Ho Chi Minh City, suggested in her letter that tourism development needs concerted efforts from the municipal authorities' departments.
Reader Truong Toan Chan emphasized the problem of seasonal tour guides who have not been licenced and not paid the stable salary. They have to live on other jobs in the low season.
Reader Vo Viet Hoa asked the question "What are the Ho Chi Minh City's specialties to introduce to tourists?". And reader Huynh Van Chuc, an American-Vietnamese, thought that "Only if tourism in Ho Chi Minh City had been more impressive".
Among them, Reader Tran Thuy Linh's nine-page letter was the most impressive. She brought out several solutions to develop tourism in HCMC.
Three best prizes will be announced on April 23, 2006. And a seminar between tourism managers, enterprises and tourists will be organized at 2:30PM on April 22, 2006, in Dam Sen Park (A 1 Hall).