The warm and sunny weather in the country has lured large numbers of local and foreign visitors all throughout the Tet season.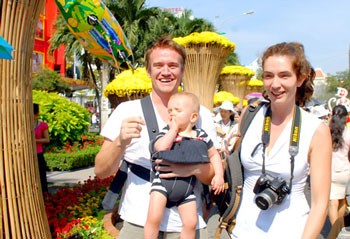 Foreign tourists visit Nguyen Hue Flower Street. (Photo: Sggp)
According to the Ho Chi Minh City Department of Culture, Sport and Tourism, nearly 400,000 overseas Vietnamese returned to the city for Tet, showing an increase of 12 percent since last year.
Around 4,000 Vietnamese citizens traveled to foreign countries like Singapore, Malaysia, China, Hong Kong (China), Thailand, Cambodia, South Korea and USA between the first to sixth day of the lunar New Year, showing a 10 percent increase this year.
More than 75,000 domestic holiday makers visited hot tourists spots such as Phu Quoc, Phan Thiet, Nha Trang and Da Lat, which was a 20 percent jump from last year. A large number of people also planned independent trips by flying to holiday locations or hiring cars for their trips.
The new direct route linking Hanoi with Can Tho attracted many visitors from the North to the Mekong Delta region.
Tourist companies had been fully booked for Tet tours from the 2nd to 6th day of the first lunar month. Price of local tours had increased by 20 percent and foreign tours had gone up by US$120-180 during the Tet season.

The Saigon tourist Travel Company received more than 9,000 international visitors from U.S, Germany, U.K, Russia, Japan, France and China during Tet. The room capacity of four and five-star hotels in the city averaged at about 60%.