A Red River by night boat tour, newly established by Song Hong Tourist, will bring fresh and interesting views for tourists who can relax in the natural scenery and enjoy the cool breeze after a hot summer day in Hanoi.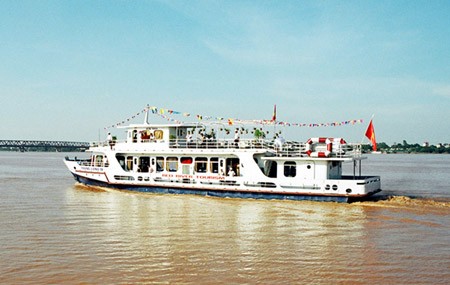 The Red River by night boat tour brings fresh and interesting sensations for tourists who can mix themselves with natural scenery, enjoying cool wind in hot summer days in Hanoi
A journey will last four to five hours, departing from Chuong Duong Bridge toward Thang Long Bridge and turning around at Bat Trang Ceramics Village, covering around ten kilometers.
Tourists have a chance to view a corner of Hanoi from a new perspective by night with the colorful and sparkling lights of the cityscape.
Tour guides will provide interesting stories about Vietnam's history as the vessels motor on.
There will also be displays of Vietnamese art and culture.
The journey will finish at midnight, with tickets costing VND235,000 (US$14) per person, and includes a light meal.
The company will organize more boat tours on the Red River in the coming future, such as Hoa Lu, Dai Bai – Ninh Binh Province or Phat Tich pagoda – Bac Ninh Province.
The Red River is the second longest river in Vietnam after the Mekong. It is the hub of all economic activity in the north of Vietnam, where the majority of the region's population is concentrated.
Few tourists or Hanoians themselves have seen the beauty of the pagodas, villages and market gardens stretching along the quiet banks of the river.
The beauty and majesty of the Red River can now be viewed by booking a tour on one of the many cruise boats. River tours are a wonderful escape from the noise, dust and hot summer days of Hanoi.
On board services may not be luxurious, but tourists will find the trips pleasant and relaxing. More information is available at: www.dulichsonghong.com